For a quick, rock-solid view of how the Patriots organization operates, what the NFL's uncertain labor negotiations mean for superstar players' contracts and how it could all be leading Tom Brady to frustration in New England, read Albert Breer's extra points c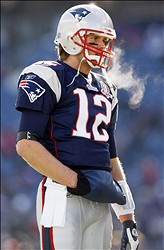 olumn.
Brady is reportedly not thrilled with his slow/non-developing contract negotiation. He has spent an unusual amount of time in California (i.e. away from Foxoro) this offseason. Pro Football Talk, adding to Breer's article, says:
One point of frustration, we're told, comes from the manner in which the team has used Brady's willingness to take less than top dollar in the past as a tool for leveraging others in the organization (players and non-players alike) to do the same. As we hear it, Brady never intended his decision to provide the franchise with a blueprint for squeezing his colleagues.

--Andy Benoit

For more NFL news, rumors and analysis, follow @cbssportsnfl on Twitter.