Josh Katzowitz and Andy Benoit resume their debate, with today's focus on 4-3 outside linebackers.
Josh Katzowitz's top five

5. Geno Hayes, Buccaneers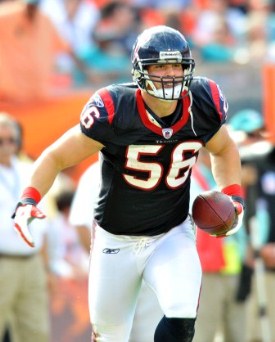 4. Julian Peterson, Lions

3. Daryl Smith, Jaguars

2. Lance Briggs, Bears

1. Brian Cushing, Texans
Last week, we talked about outside linebackers who play the 3-4. Now, it's the 4-3 linebackers' turn. Despite the fact he violated the steroids policy and won't be around for the first four games of the Texans season – personally, I think the voters should have stripped away his NFL Defensive Rookie of the Year award as well – Cushing was phenomenal last season. He's extremely well-rounded – he can rush the passer, play the run and drop into coverage with aplomb – and he'll be a great foundation for Houston in the years to come. Hopefully, his pituitary gland won't give him any more problems in the future.
Briggs had another Pro Bowl season, but he missed too many tackles last year. He still plays with speed and strength and is still a top-notch OLB. Smith is coming off a career season (106 tackles) when Jacksonville experimented with a 3-4 scheme, but with the Jaguars going back to the 4-3 and moving Smith to the strong side, it'll be interesting to see how the change affects him and whether he drops back into the 70-80 tackle range. Peterson is getting older and losing a step, but he's still more than solid. I'm not sold fully on Hayes, but he had a nice season last year, and Tampa Bay expects big things in his third season.
I thought about adding Keith Bulluck – who's 33 – but the fact he's coming off an ACL surgery and that, you know, he hasn't been claimed off the free agent market dampens my enthusiasm for him.
Andy Benoit's top five

5. Chad Greenway, Minnesota Vikings

4. David Hawthorne, Seattle Seahawks

3 Brian Cushing, Houston Texans

2. Lance Briggs, Chicago Bears

1. Jon Beason, Carolina Panthers
We're in agreement on Cushing and Briggs. Cushing has been a star since day one. Of course, we'll have to see how explosive he is now that he's not juicing (presumably). Lance Briggs has terrific speed, plus he's strong enough to play in traffic.

My guess is you're considering Beason a 4-3 MLB. He's been the best 4-3 MLB in the league the past few years, but it's looking like the Panthers will foolishly slide him to the weak side to replace the injured Thomas Davis in 2010. I figure Beason will be a demon at weakside linebacker, too – it's the position he played at Miami. If he's a WLB in '10, where do you rank him?

Hayes is up-and-coming, but he needs to learn to get off blocks before I consider him top five. Peterson has been a non-factor in Detroit, which is almost like being dead. Smith is just too plain for me. His tackle numbers were good in part because the players around him stunk. Put Smith next to a Ray Lewis or a Bart Scott and you'd never notice him again.

Regarding the guys rounding out my list…Greenway is a playmaker when he can trust those around him. He's especially effective in coverage. I'm taking a risk by going with the undrafted Hawthorne, mainly because his NFL experience is at middle linebacker and it's not a 100 percent guarantee he'll even start ahead of Leroy Hill in Seattle this year. But I've seen enough of Hawthorne on film to feel comfortable here. Hawthorne is instinctive, nimble and punishing at the point of contact. He regularly infiltrated opponents' backfields last season.

Josh's rebuttal

You're absolutely right on Beason. If he does move to the weak side – and it's still not certain – he automatically moves to No. 2 on my list. I still like Cushing a little bit better, but that could change on next year's list, because of the chemical questions you mentioned. Greenway, aside from his coverage skills, seems run of the mill to me, and it's not clear whether Hawthorne, who had a breakout last season, will even start this year – depending on what happens with Leroy Hill. He's almost the Omar Infante of your list.
Andy's final word

I didn't realize how few elite 4-3 OLB's there are until we did this list. The best athletes used to be weakside linebackers. Now, they're 3-4 outside linebackers. (Or, sometimes, strong safeties.)


(Other positions: Safety | Cornerback | 3-4 Scheme Outside Linebacker | Punter | Kicker )


--Josh Katzowitz and Andy Benoit

For more NFL news, rumors and analysis, follow @cbssportsnfl on Twitter.