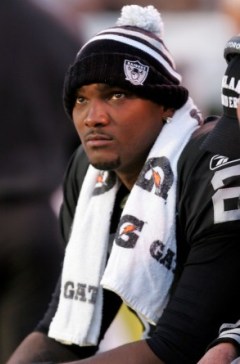 While reading
Andy's post
Monday night on JaMarcus Russell, where Andy called him "arguably the biggest bust in NFL history," I wondered who else could qualify for such an impressive title.
I say we break down the numbers and figure out who really was the biggest bust. A few names pop out almost immediately: Russell, Brian Bosworth, and, of course, Ryan Leaf. Who will wear the crown? Who can be considered the biggest NFL disappointment of all time? Let's check the scoreboard.
QB JaMarcus Russell
, drafted No. 1 by the
Raiders
in 2007 – completed 52 percent of his passes for 18 TDs and 23 INTs, 7-18 as a starter – signed a six-year, $61 million contract with $32 million guaranteed:
Arguments For:
He was undisciplined. He was lackadaisical. He was too heavy. He was indifferent. He was a disaster. He's also very rich in spite of all that.
Arguments Against:
He played only two full seasons. Maybe he was just about to come into his own?
Brian Bosworth
, drafted No. 1 by the
Seahawks
in the 1987 supplemental draft – played 24 games in three years and recorded four sacks – signed a 10-year, $11 million contract, then the highest in rookie and team history:
Arguments For:
He was a Butkus Award winner, and he had huge hype after finishing his college career at Oklahoma. He had the posters, he had the nickname (The Boz) and he had the look. Evidently, he didn't have quite as much talent, and steroids robbed him of a long career, forcing an early retirement. Plus, his haircut was indefensible, even it was totally 1980s.
Arguments Against:
Seattle should have known it was taking a risk in drafting him. He was a known steroid user – he was suspended for the 1987 Orange Bowl – and he had an outlandish personality that could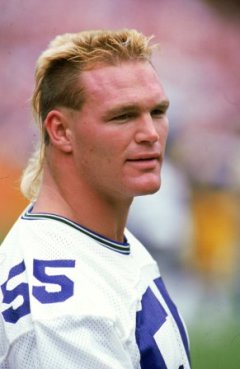 cause him to flame out suddenly. Some of the blame can be placed with the Seahawks.

Ryan Leaf
, drafted No. 2 overall by the
Chargers
in 1988 – completed 48 percent of his passes for 14 touchdowns and 36 interceptions, 4-17 as a starter – signed a four-year, $31 million contract with $11 million guaranteed:

Arguments For:
As you might remember, there was a real debate about whether he or
Peyton Manning
should be taken with the top spot. Obviously, Leaf's pro statistics speak for themselves, but you have to remember what the Chargers traded to the
Cardinals
for the chance to move from No. 3 in the Draft order to No. 2 – two first-round picks, a second-round pick and Eric Metcalf, a three-time Pro Bowler. Plus, Leaf was a jerk.
Arguments Against:
Really, I've got nothing.
So, who's the biggest bust? I give the nod to Leaf, but it's close between him and Russell. Like, really close. Russell, though, still has a chance for redemption. Bosworth, to me, gets off easy on this argument, mostly because he provided the world the movie, "Stone Cold."
On a side note, Russell's arrest is no laughing matter. Here's
Alex Marvez of foxsports.com
with a different take on the Russell arrest – a little bit of sympathy for somebody who perhaps has shown signs of being an addict.
--Josh Katzowitz
For more NFL news, rumors and analysis, follow @cbssportsnfl on Twitter.