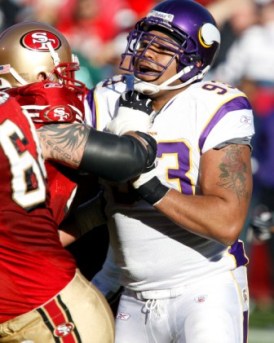 Josh Katzowitz and Andy Benoit resume their debate, with today's focus on defensive tackles.
Josh Katzowitz's top five

5. Haloti Ngata, Ravens

4. Vince Wilfork, Patriots

3. Jay Ratliff, Cowboys

2. Albert Haynesworth, Redskins

1. Kevin Williams, Vikings
As expected, this position is brimming with talent, and unlike some other (unnamed) positions, where it was pretty tough to find five really quality stars, this list had to be edited and reworked a few times because there were so many deserving linemen. I'm sure there are five other tackles out there who could be placed on a top-five list and have them be just as deserving. Well, maybe nearly as deserving.
Kevin Williams most likely will play this season after avoiding a potential suspension because of a positive drug test issue. If he's on the field, he's one of the best interior DL in the NFL (as his four-straight Pro Bowls will attest). I thought long and hard about putting Haynesworth above Williams, but as good as he's been as a DT, he might not be as effective as a nose tackle. Plus, he was just a little below elite last season, and the fact is that he's played a 16-game schedule exactly one time – during his rookie season in 2002.
Ratliff has accumulated 13.5 sacks in the past two years – the guy certainly knows how to rush a passer. And now that he's had surgery to remove bone spurs from his elbows – which didn't allow him to bench press the past two years – he could easily move to the top of this list. Wilfork is the anchor of the Patriots 3-4 defense, and now, he's being paid like one after signing a five-year, $40 million contract with $25 million guaranteed. Ngata is huge and nimble and quick and athletic. He demands double-teams.
Andy Benoit's top five

5. Haloti Ngata, Baltimore Ravens

4. Jay Ratliff, Dallas Cowboys

3. Vince Wilfork, New England Patriots

2. Albert Haynesworth, Washington Redskins

1. Kevin Williams, Minnesota Vikings
I swear I made this list before I saw yours. You nailed Ngata: nimble and quick. To me, Ratliff is the amazing member of this list. He's a former seventh-round pick who, at a diminutive 303 pounds, has become the most dominant nose tackle in the NFC. He's expanded the criteria for how we evaluate nose tackles. Rather than commanding double-teams with sheer size, he commands them with energy and quickness off the snap.

Wilfork doesn't get enough credit for his lateral agility.

I seriously doubt Haynesworth will be on this much longer. He's going to roll over in Washington this season. It's too bad that so much natural talent went to such a bad guy (and I don't use the term "bad guy" lightly).

I hate to get in the habit of doing top eight, but since we're in agreement again, here's what I have: 6. Shaun Rogers (assuming he bounces back from leg injury), 7. Darnell Dockett (the most tenacious D-lineman in the game), 8. Kris Jenkins (Ratliff-like quickness off the snap, Wilfork-like size; only problem has been injuries).
Josh's rebuttal
I probably would have put Dockett on my top five – though I'm not sure who I would have left off – but I was saving him for the defensive ends list. I saw Rogers play live a few times last year; he didn't do much to impress me. He's just really, really big. He's a quality run-stopper, but when he's out of shape, he's not a top-10 guy. My top eight would go: 6. Kris Jenkins (I was close to putting him in the top five – he has really good athleticism), 7. Pat Williams (he's not as good as he once was, but he's still a powerful force), 8. Jonathan Babineaux (he's athletic and plays well as a pass rusher and run-stopper). Babineaux faced a felony animal cruelty charge a few years ago, so that's a bit weird. But still, we're talking about a really good undersized DT.
You know, this isn't quite as much fun when we agree. I miss us making fun of each other. O Manny Lawson, Manny Lawson, wherefore art thou Manny Lawson?
Andy's final word
I think Babineaux is underrated, but not to the degree that he makes the top eight. His 2007 animal cruelty charges flew under the radar because – and what are the odds of this – another Falcons player had bigger animal abuse charges around that time. (You might remember reading something about it.)

Babineaux's charges were later dismissed after it was determined that the pit bull killed – which belonged to a girlfriend who later became his wife – had a history of unprovoked attacks. In short, it sounds like Babineaux did nothing wrong. But you can form your own opinion; read the report here.


Other positions: Safety | Cornerback | 3-4 Scheme Outside Linebacker | Punter | Kicker | 4-3 Scheme Outside Linebacker | Inside Linebacker)


--Josh Katzowitz and Andy Benoit

For more NFL news, rumors and analysis, follow @cbssportsnfl on Twitter.