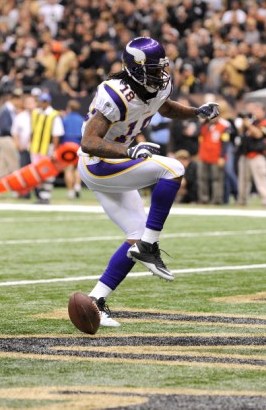 Kind of a strange day for
Vikings
WR
Sidney Rice
and, I suppose, his hip.
First, let's go to the reaction of former star Cris Carter – who, along with
Cardinals
receiver
Larry Fitzgerald
, has been working out NFL receivers at the University of Minnesota – on Rice, who wasn't in attendance. Keep in mind that Rice credited the Fitzgerald summer workouts with helping him to an 83-catch, 1,312-yard, eight-touchdown Pro Bowl season last year.
As brought to you by the
Minneapolis Star-Tribune
, Carter sounded peeved at Rice's absence.
"I don't know," Carter said when asked what challenges Rice will face this season. "You have to ask him. I don't know what it's like to have one good year and then disappear. I don't know what it's like. That's on him. I really don't know. … If I had that kind of impact on him, he should have been here today."
And then this: "I don't look mad do I?" Carter said. "I don't get mad about kids coming or not coming. Larry is the only one who invited me. … Everybody else is just getting the benefit of our relationship. But Sidney is not here so I guarantee he's not getting no better today."
With rumors that Rice's groin was injured, that prompted Drew Rosenhaus, Rice's agent, to go on a
Twittering rampage
(OK, it was only two tweets but still). The first: "Sidney Rice does not have a groin injury and has not had surgery. He does have a lingering hip injury that he suffered in the play-offs." And the second: "Sidney does not anticipate that this injury will require surgery and he's hopeful that he will be fully healthy for the start of the season."
Then, the
Star-Tribune
caught up with Rice, who said, ""Everything is alright. I'll be ready to go at camp. … Just being cautious with it. I can run. I'm jogging and sprinting. I'm just not doing a lot of cutting and different things like that. The doctors feel this is the best thing."
--Josh Katzowitz
For more NFL news, rumors and analysis, follow @cbssportsnfl on Twitter.