Josh Katzowitz and Andy Benoit resume their debate, with today's focus on centers.
Andy's top five list



5. Matt Birk, Ravens

4. Andre Gurode, Cowboys

3. Alex Mack, Browns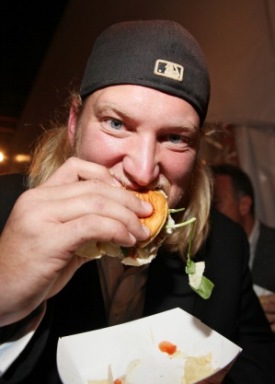 2. Olin Kreutz, Bears

1. Nick Mangold, Jets
The veteran stability provided by Matt Birk is a big reason the Ravens' young offensive line will be the best in football this season. Birk has always made his teammates better. Gurode can be comically inept in shotgun snaps at times, but opponents never laugh after facing him in the ground game.
Mack amazed me on film as a rookie. He plays with the savoir faire of a 10-year veteran. He sustains well in pass protection despite having questionable strength, which speaks to his well-honed technique. Most importantly, Mack gives the Browns a second source of mobility inside next to left guard
Eric Steinbach
.
Kreutz is aging, which only makes him meaner. He uses his hands as well as any blocker in the game. I'm part of the rest of the football universe that has decided Mangold is, far and away, the NFL's best center. The fifth-year pro has no particularly-glaring weakness.
Josh's top five list



5. Jeff Saturday, Colts

4. Olin Kreutz, Bears

3. Andre Gurode, Cowboys

2. Matt Birk, Ravens

1. Nick Mangold, Jets
There's no reason to argue the pick of Mangold, who only sometimes stuffs his face with a burger (pictured at right). He's the best center in the NFL, and considering he's entering only his fifth season, he has plenty of years left. Memo to the New York Jets: you might want to lock up this guy to a long-term deal.
Birk has been around forever, and he, somehow, doesn't have any weaknesses. His run-blocking – as backs like
Adrian Peterson
,
Ray Rice
and
Willis McGahee
will attest – is some of the best around. Gurode is tough and a punishing run-blocker. You mentioned his shotgun snaps – a fair criticism – but I've got another critique. He takes way too many penalties. He had nine of them last year, which led the league. He had six the year before. You know who that doesn't impress?
Albert Haynesworth
.
Kreutz, at 33, isn't quite as good as he was, and he's coming off Achilles tendon surgery. But you know what I like about him? He can get out in space on sweeps and screen passes, and he can make a block downfield. I LOVE centers who hustle to do that. Saturday has helped keep
Peyton Manning
upright for the past 192 starts. He's a four-time Pro Bowler, and although he just turned 35, he's still one of the best centers in the league.
I don't mind the Mack selection, but I'm going to need to see him do it for more than one season before he displaces one of the veterans on my list who have been doing it for years. You see, I like my centers like I like my women: old and gritty and, if possible, missing some teeth.
Andy's rebuttal
And I like MY centers like I like MY women: young, flexible and willing to do anything. That's why I anticipate the 24-year-old Mack being at least No. 2 on my list by season's end. But I understand you wanting to see more evidence at this point.
If you like old and gritty, you could have also gone with Kevin Mawae. He's an unsigned free agent right now – owners might be blackballing him because he heads the NFLPA – but there isn't a craftier, steadier leader in the game. The
Titans
will really miss Mawae in 2010. Another gritty veteran worth mentioning is the
Giants
' Shaun O'Hara, an outstanding second-level run-blocker.
Two guys who didn't make our lists were Tampa Bay's
Jeff Faine
and St. Louis's
Jason Brown
. I point them out because Faine became the league's highest-paid center in '08, and Brown became the highest-paid in '09. Both have been decent, but only decent.
Josh's final word
We also didn't talk about Carolina's
Ryan Kalil
, who grades out as one of the better pass-blocking centers in the league. I probably would have made him my No. 6 or No. 7 if we had expanded our lists.
Other positions:
Safety
|
Cornerback
|
3-4 Scheme Outside Linebacker
|
Punter
|
Kicker
|
4-3 Scheme Outside Linebacker
|
Inside Linebacker
|
Defensive Tackle
|
Defensive End
|
Offensive Tackle
)
--Josh Katzowitz and Andy Benoit For more NFL news, rumors and analysis, follow @cbssportsnfl on Twitter.