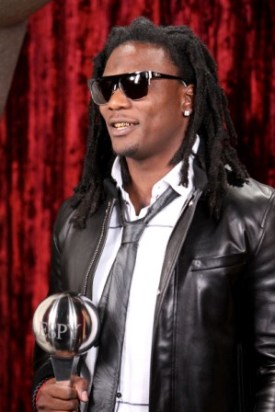 Tennessee RB
Chris Johnson
and the
Titans
haven't made much progress on contract talks, and if he doesn't feel like he's being fairly compensated, last year's league-leading rusher indicated Wednesday he won't be at training camp.
In quotes captured by the
Tennessean
, Johnson, in separate interview with ESPN's Erin Andrews and Colleen Dominguez, didn't sound optimistic.
"The contract negotiation, it's at a standstill right now," he told ESPN. "I'm just praying right now, hopefully by the time camp comes we'll have something worked out. If it's not a long-term deal, just have something to get me to play this year.
"It's all up to Tennessee to be honest with you. Whenever they're ready to get me into camp, they'll do something. And when they do something, I'll be proud to be there and get with my teammates."
Johnson basically is saying that even if a long-term can't be worked out, he wishes Tennessee would give him something extra to get him through to next season. If not, it doesn't sound like Johnson will report to camp.
``It depends on the Titans,'' said Johnson, who will make a base of $550,000 in the fourth year of a six-year deal and then is scheduled to earn $800,000 in 2011 and $2.21 million in 2012 in his current deal. "If they pay me, I'm in camp. If they're not, I'm not in camp.''
--Josh Katzowitz
For more NFL news, rumors and analysis, follow @cbssportsnfl on Twitter.