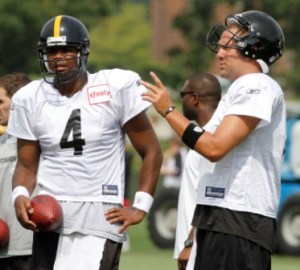 All
Ben Roethlisberger
wants from the
Steelers
fan base is a second chance (or, more accurately, a fourth chance. That's what he told the
Pittsburgh Post-Gazette
for today's editions.
Roethlisberger mentioned how nervous he was driving to camp, simply because he didn't know the reaction he'd receive after another turbulent offseason that resulted in a (for now) six-game suspension to open this year.
"I am hoping and praying that I get a warm reception," he told the paper Friday afternoon. "I hope people want to give me another chance and that they will give me that chance to prove to them ... It would tear me apart if (booing) happened at home. On the road we are used to it anyway. I can block that out; but it touches my heart because I love Pittsburgh."
Those prayers seemed to work.
From the
Associated Press
:
What Roethlisberger didn't expect was this: Waves of cheering supporters wearing his No. 7 jersey and knocking over temporary security fences to get the autograph of a player whose vulgar off-field behavior led the NFL to suspend him for six games.

Roethlisberger, so disliked in Pittsburgh a few months ago that he wondered if he'd ever regain a sliver of his previous support, was greeted warmly by an enthusiastic crowd estimated at 10,000 on Saturday at Saint Vincent College. He heard few, if any jeers, and many fans appeared to go out of their way to embrace him.

There were cheers when Roethlisberger and wide receiver Hines Ward arrived on the practice field together, and more when the quarterback found Antwaan Randle El on a pass route.

Pumped up by the response, Roethlisberger couldn't recall throwing a single incompletion during a nearly two-hour practice.

"I was nervous, scared, anxious, a lot of emotions," Roethlisberger said.
Roethlisberger, after practice, signed and gave away both of his shoes. Even Ward – no stranger to criticizing Roethlisberger – had nice things to say.
"For many years, people didn't know what was really going on with Ben," Ward said. "He's starting to open up and be more personal with guys. Today he was talking to everybody. I really think he understands the situation. I think you could really see the excitement in him, competing and playing football again. ... He's working on trying to improve himself."
Roethlisberger worked out with the first team today, but that could change Sunday. It sounds like Roethlisberger,
Byron Leftwich
and
Dennis Dixon
will rotate with the different teams.
--Josh Katzowitz
For more NFL news, rumors and analysis, follow @cbssportsnfl on Twitter and subscribe to our RSS Feed .