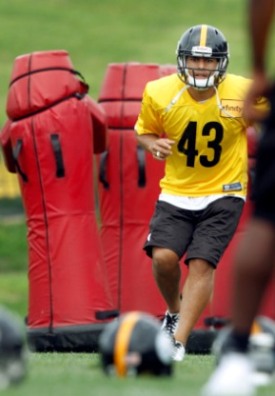 During a podcast I taped today with Will Brinson – it should be up on the blog later this afternoon – we had a lengthy conversation about the
Steelers
and how dependent they are on
Troy Polamalu
to return to strength after playing only five games last year due to a knee injury.
Without him in the lineup last year, Pittsburgh was forced to use Tyrone Carter at the strong safety spot. The experiment did not go well – and really, it's not fair to expect the undersized Carter, who's now a free agent by the way, to replicate Polamalu's talent and production – and the Steelers secondary only recorded 10 interceptions while finishing 16th in the NFL in passing yards allowed per game.
Now, according to the
Pittsburgh Post-Gazette
, Polamalu is healthy and ready to return and cause havoc for opposing offenses. His knee no longer should be a factor.
"It took a little longer than I anticipated," Polamalu told the paper. "I'm fine now. It just took longer in the offseason. There's no way I could have played in the Super Bowl or anything like that. Maybe I was just fooling myself to work toward something like that."
Polamalu never had surgery to repair the damage to his knee ligaments, because the recovery was too uncertain. He decided to let the knee heal on its own, and now, he's healthy enough to practice. But what about actually playing in a game?
"It's a whole other story when you have to play," he said. "You really can't say how confident you are until you really have people falling on you and your legs.
"Exploding off it hasn't been a problem at all. You can simulate that through training. But you can't really simulate people falling on it and people around your legs. But I honestly don't think that's a huge problem at all."
If Polamalu is healthy – and Will and I discussed this – the Steelers will have a better chance of competing for an AFC North title, particularly when it comes to dealing with the newly-retooled passing offenses of the
Bengals
and
Ravens
. If he's not as healthy as he wants – or he reinjures himself – this season could go downhill pretty quickly in Pittsburgh. Yes, Polamalu is that important.
--Josh Katzowitz
For more NFL news, rumors and analysis, follow @cbssportsnfl on Twitter and subscribe to our RSS Feed .