Posted by Andy Benoit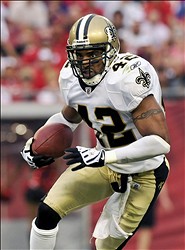 Mike Triplett of The Times Picayune suggests that the Saints should consider putting free safety Darren Sharper on the PUP list. Doing so would relegate Sharper to the sideline for the first six weeks of the regular season, but it would also give the 34-year-old two more months to get his bulky knee right.

Sharper had a minor microfracture procedure done on his left knee in March.

"I don't like the idea (of the PUP list)," Sharper said. "But I also have to go off of how healthy I'm going to be. So that's a decision that's going to be made by a group effort.

My mindset is to be ready for the season - before the season is here. You know, I would like to get some preseason games to kind of knock the rust off," Sharper said. "But I definitely want to be out there for the Minnesota game. Definitely."

The Saints could be more inclined to play it safe with Sharper given that last year's first-round pick, Malcolm Jenkins, has impressed at his new free safety spot. Sharper is yet to even take the field.

"I feel like I'm close (to returning to practice), but you never know," Sharper said. "Some days it feels good, some days it doesn't."

For more NFL news, rumors and analysis, follow @cbssportsnfl on Twitter and subscribe to our RSS Feed .