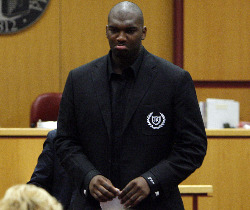 Posted by Will Brinson
Last night, Trey Wingo tweeted something about a "teaser" for a JaMarcus Russell interview on ESPN. It involved Russell admitting he used codeine and failed a test -- and it seemed kind of crazy, considering ESPN wasn't hyping it.
Fast forward to today, and Sportscenter is airing the interview, in which Russell talks to Colleen Dominguez.
"Around the time when I first got there or a year after I got there," Russell said when asked when the
Raiders
confronted him. "[They] said they were gettin' word in the streets about me using drugs. Then, one of the doctors came to me."
Russell also admitted that he tested positive for codeine.
"I missed all of training camp, so I didn't get tested when all the other guys got tested," Russell told Dominguez. "I had a prescription from a doctor, but it wasn't the team doctor."
Of course, the follow-up question was whether or not Russell's current predicament involved his use of codeine, to which he answered, "No."
Russell additionally claimed he'd never heard the statement from the Raiders about how they "did all they could" for him, which is kind of amazing -- you'd have to have been absolutely donked out on codeine NOT to have heard what the Raiders said, particularly if it was about
you
.
But the larger point of the interview seemed to be that Russell (and whoever is running his PR machine) believes that by going on television and admitting what he did wrong in the past and then denying that he did what he's currently in trouble for, he stands a better chance at getting another shot with a football team.
Sadly, he's got enough raw talent that, eventually, he probably will.
For more NFL news, rumors and analysis, follow

@cbssportsnfl

on Twitter and subscribe to our
RSS Feed
.