Posted by Andy Benoit

Usually, the best part of a preseason game is simply seeing two teams in NFL uniforms on the same field. Tonight, there are three games, each with a unique reason to watch (maybe). Here's what's on the NFL's Friday night docket (with a reason to watch listed below):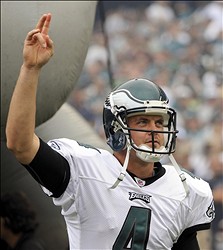 Bills @ Redskins

McNabb's debut in Washington. He'll probably play two or three series. But we'll get a quick glimpse at his on-field chemistry with Washington's very mediocre receiving corps.

Also, bonus: what will Albert Haynesworth do in this game?
Chiefs @ Falcons

Tony Gonzalez faces his former team…for a few minutes, anyway.
Jaguars @ Eagles

Last year, this matchup gave us the Michael Vick return. This year, we get the Kevin Kolb debut. Sort of. Kolb has started games before – regular season games, in fact. But this is a tad different. For the first time, he'll be taking the field as The Man in Philly. It's a bigger deal that he's doing so at home, where the Eagles fans will overreact to his every move. Will Kolb give in to the temptation to try and do too much? Will he be poised? How he plays shouldn't matter (it's the first preseason game, after all). But, given that Kolb's performance will set the tone for Philly's talk radio world and blogosphere the next few weeks, his performance tonight does matter.

For more NFL news, rumors and analysis, follow @cbssportsnfl on Twitter and subscribe to our RSS Feed .