Posted by Andy Benoit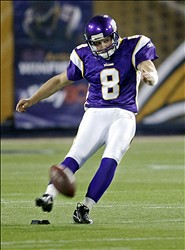 We have a rare case of a kicker speaking candidly and critically. Before you clinch your fist, you should know, it's NOT Mike Vanderjagt. Not even close, in fact. This is a kicker most people actually like: Minnesota's Ryan Longwell.

Surprisingly, Longwell's candid comments were about another kicker: Dallas's David Buehler (Buehler?...Buehler?....Buehler?....)

Buehler is transitioning from kickoff specialist to all-around kicker (i.e. he's learning how to kick field goals). He is 6/7 in the preseason thus far, though in speaking with the Minneapolis Star Tribune, Longwell talked about the youngster's lone miss (which came in the Hall of Fame Game against Cincinnati). "He's got a huge kickoff leg, but he missed that field goal ... by 20 yards," Longwell said. "I'm not sure if you can be there if you're hitting balls like that."

Longwell isn't shy about his high opinion of kickers – and, in truth, he makes some good points:

"In building a team, I think kicker would rank pretty high. It's one of the few positions in the world that's either an A or an F. There are no C's in kicking. Your successful teams always seem to have the consistent kickers. And the teams that are always a near miss are always teams that think they can sneak one by with a kicker who doesn't have the experience."

For more NFL news, rumors and analysis, follow @cbssportsnfl on Twitter and subscribe to our RSS Feed .