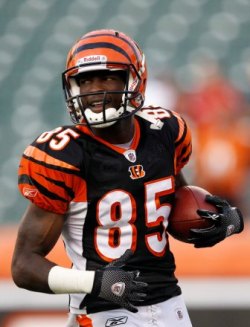 Posted by Josh Katzowitz
Subscribing to the theory that a fool and his money are soon parted,
Bengals
WR
Chad Ochocinco
has been fined $25,000 for violating the NFL's policy on social media during last Saturday's exhibition with the
Eagles
.
According to
NFL.com's
Jason La Canfora, Ochocinco actually violated two NFL rules: possession of an electronic device and posting messages on a social networking site during a game.
It's not a surprising move, as
Andy wrote here
minutes after Ochocinco's violation.
The policy states a player is prohibited from using social media 90 minutes before the game until after the postgame media session is complete.
The game Saturday began at 8:07 p.m., and Ochocinco had a post at 6:50 ("Just talk with Kelly Washington ,
DeSean Jackson
, Geoff Pope,
Hank Baskett
and I caught a ball from Mike Vick, I love prw-game warm up") and at 9:53 p.m. during the game ("Man Im sick of getting hit like that , its the damn preseason s---! 1day I'm gone jump up and start throwing hay makers , #Tylenolplease").
You can see the offending remarks on his
Twitter page here
.
Ochocinco, of course, knew he was going to take a fine from the NFL. In fact, I think he takes pride in it. For what reason? I don't know. To be a so-called "rebel?" To show people how much money he's got? To prove that he's some kind of happy-go-lucky man-child?
Not to say that Ochocinco isn't generous or charitable – because I know that he is – but it would be nice that instead of being so outlandish in breaking the NFL rules (and paying the exorbitant fees that come with it) he would donate that money to somebody who really needs it.

UPDATE (2:55 p.m.):
And just because we're already knee-deep in Ochocinco's ridiculousness, check out this link from the
Cincinnati Business Courier .
Ochocinco is launching (yep, you guessed it) his own cereal. I'll leave it at that.
UPDATE (5:30 p.m.): Ochocinco has
Tweeted about his fine
: "Dear NFL I apologize for tweeting during the game but that was 2 monthsof my Bugatti payments you just took from me,I won't do it again."
For more NFL news, rumors and analysis, follow @cbssportsnfl on Twitter and subscribe to our RSS Feed .