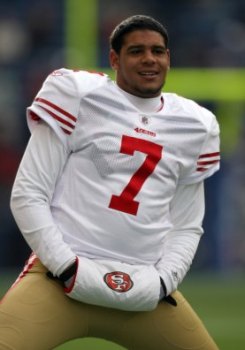 Posted by Josh Katzowitz
Jason Whitlock, formerly of the Kansas City Star and
currently of Foxsports.com,
is a controversial columnist who writes controversial columns. Today, he turns his sights on the least-heralded quarterback in the San Francisco organization.
In his column today, he says third-string
49ers
QB
Nate Davis
has more upside than starter
Alex Smith
and backup
David Carr
combined – that's a pretty bold statement, considering Smith and Carr are former No. 1 draft picks and Davis was a fifth-round pick in 2009. The only thing holding Davis back, asks Whitlock - who, like Davis, attended Ball State? His irresponsibility.
Writes Whitlock:

Nate Davis is embarrassingly immature. He has no clue about the kind of commitment and work necessary to be an elite level quarterback. None.

He excelled at Ball State because he had USC talent and three coaches - head coach Brady Hoke, offensive coordinator Stan Parrish and strength coach Aaron Wellman - and an older brother riding his ass year-round.

In the NFL, you can't devote three coaches to making sure Nate Davis does the right thing. Things move too fast on and off the field. The players have far more freedom and power. Nate Davis has to want to be a great NFL player. He has to want it 12 months a year.
Partially, that criticism comes because coach Mike Singletary ripped into Davis in his latest postgame news conference.
"Right now, Nate Davis is working his tail off to try and learn this system," Singletary told the San Francisco media. "But in the offseason, that's when you take the time to get that done, and I'm not sure how hard he worked this offseason getting that done. So when I talk about work ethic, you just can't turn it on and it off, and now come to training camp (and say), 'Coach, I'm really trying. I'm really trying.' You know what? The offseason when we were in the OTAs, the minicamps and all those things, that's when you have to get that done.
"And that's when you have to stay up and drive the coaches crazy and look at film and ask all the questions you possibly can. I'm not sure he did that. So right now, it's a lot he has to get in a short amount of time. Hopefully, he can do that. I don't know. We'll see."
I don't necessarily agree that Davis is the potential savior for the San Francisco offense – Whitlock compares him to Larry Bird, and that's kind of hard to believe. After all, Davis was a scout team WR last season, and there's no chance, aside from an injury, that Smith doesn't start the season as the starting QB.
But Davis does provide some interesting aspects to the 49ers with his scrambling ability and his big arm. Yet it sounds like there's plenty of work for Davis to do on the field – and in his own head – if he wants to fulfill the potential Whitlock thinks he has.
For more NFL news, rumors and analysis, follow @cbssportsnfl on Twitter and subscribe to our RSS Feed .