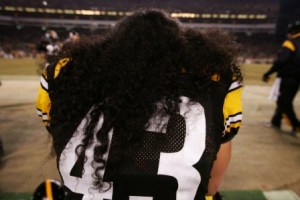 Posted by Josh Katzowitz
Troy Polamalu
is one of the most feared players in the NFL. He's a hard hitter, and he covers virtually every inch of the field when the
Steelers
safety is healthy. Quarterbacks hate it when he's in the game, because, simply put, Polamalu is good enough to force the opposing offense to change its entire gameplan.
Oh, and he's got a nice head of hair.
You've most likely seen him bullying reporters and showing off his flowing locks in TV commercials for Head and Shoulders (hey, if I had hair like that, I'd use it to my advantage as well and do, well, pretty much whatever I wanted). That's probably why Polamalu, according to the
Associated Press
has decided to insure his hair for $1 million through Lloyd's of London.
This, of course, is a publicity stunt for the dandruff shampoo, and it's unclear what exactly has to happen to Polamalu's hair in order for him to collect the money. But hey, you've got to do what you've got to do in order to protect your best asset. That's why, as we speak, I'm trying to figure out how I can insure my typing fingers (as opposed to my regular fingers).
For more NFL news, rumors and analysis, follow @cbssportsnfl on Twitter and subscribe to our RSS Feed .