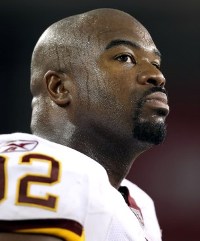 Posted by Josh Katzowitz
In yet another twist in what has become a tiring, tiring rollercoaster ride, it now appears
Redskins
DL
Albert Haynesworth
WILL play against Dallas in the season opener.
This, according to the
Washington Post.
Two days ago, we told you it was possible coach Mike Shanahan
would deactivate Haynesworth
for the
Cowboys
game, and according to Jason Reid, Haynesworth didn't play many snaps in Washington's practice Saturday.
Since his poor performance in the team's preseason finale, Haynesworth – who had been seeing plenty of time at the DE spot – was moved back inside, a move he couldn't have enjoyed.
But now, the pendulum has swung the other way, and it's on the upswing.
Hopefully, we won't have to write about Haynesworth any more until Sunday, so unless there's more crazy breaking news, here's what COULD happen with Haynesworth in the season opener.
1)He could start.
2)He could not start but play.
3)He could be on the inactive list and not play.
4)He could kick field goals.
5)He could be that dude who carries Shanahan's headphones wire up and down the sidelines.
6)He could be tweeting and writing blog posts Sunday along with Andy, Will and I on the Facts & Rumors blog.
My educated guess: either No. 2 or No. 6.
For more NFL news, rumors and analysis, follow @cbssportsnfl on Twitter and subscribe to our RSS Feed .