Posted by Josh Katzowitz

The front office, like most of the players it pays, doesn't take much of an offseason. The general managers and the other executives – player personnel and otherwise – are constantly remodeling the team. Get rid of the guy who's too slow for the system, sign to an extension the cornerback who could be the league's next breakout star, fire the coach who's taken the team as far as he can, draft the perfect offensive lineman for the team's scheme, etc.

And like the players you watch every week, these front offices are to be judged. In the first of our weekly Top Ten with a Twist, I'm grading out the front offices. Without further ado, here's the list:

Top 10 Front Office Performances from 2010 Offseason

10. Chiefs: Second-year coach Todd Haley, after a rough first year in which he worked his team to the bone, has been more pleasant this offseason. He's even been spotted … gasp … smiling. That's probably because the front office, led by GM Scott Pioli, made his team better. Kansas City signed Thomas Jones – you know, the guy who was the NFL's third-leading rusher last year before the Jets parted ways with him – and they had a good draft. Eric Berry and Javier Arenas will make a big impact in the secondary and Dexter McCluster will be a standout on offense. The Chiefs won't sniff .500 this year, but they're headed that way.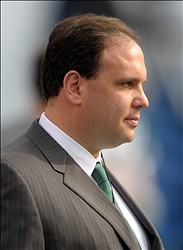 9. Raiders: Yes, Al Davis still makes bizarre decisions (he reportedly was the only one who wanted to keep Mike Mitchell and cut Steve Brown at safety that turned cutdown day into a confusing series of events), but the most important one this front office made was to rid themselves of JaMarcus Russell and to bring in Jason Campbell. Campbell will never be an elite quarterback, but he could lead Oakland back to respectability (meaning they'll have a chance to go 8-8). Simply for getting rid of Russell, that makes the front office a shoe-in for this list, but they also drafted LB Rolando McClain with the first-round pick - they thought so much of him they traded away Kirk Morrison – and added LB Kamerion Wimbley.

8. Cardinals: While I absolutely hate the Derek-Anderson-is-starting-at-QB move, Arizona had a solid offseason. It let Matt Leinart go finally after it was clear he was never going to make it, but most importantly, it didn't give in to Darnell Docket's repeated requests during the past few seasons for contract extensions, not wanting to set a bad precedent by giving him an extension when he still had more than two years on his deal. But just before this season was to begin, the team rewarded him and possibly made him a Cardinal for life. Just for not folding, they're in my top-10. Now, if the front office could just keep him from videotaping himself while in the shower …

7. Bengals: They had a good draft, selecting TE Jermaine Gresham, DE Carlos Dunlap, WR Jordan Shipley, CB Brandon Ghee and DL Geno Atkins, all of whom should get some (or plenty of) playing time. Further playing into the stereotype that the club is the NFL's version of the Betty Ford Clinic, owner Mike Brown also brought in WR Terrell Owens and CB Adam Jones (you know him better as Pacman). Both moves could backfire, but they also could be outstanding. I'll give major points off because the Antonio Bryant signing was a disaster (they spent $8 million and got only a couple practices out of him) and because they, for some strange reason, haven't locked up a new contract with Marvin Lewis. If they lose him, there's no way Cincinnati is back on this list next year.

6. Lions: Look, their defense has been terrible the last few years, and sure, the addition of star-in-waiting Ndamukong Suh in the first round of the draft was a no-brainer pick. But considering the number of occasions the Lions have screwed up their first-round selection, this one was actually the right move. Then, they got RB Jahvid Best later in the first round, and if concussions don't prove to be a problem for him, that's a nice pick. Adding WR Nate Burleson will help WR Calvin Johnson and QB Matt Stafford, as well. The defense probably still will struggle, but hey, at least Detroit is on the right rack. That's not something you can always say going into a new season.

5. Vikings: Yes, the front office emasculated itself by outright begging Brett Favre to return to the team (pretty, pretty please), but ultimately, the Vikings knew they needed to make this happen. They needed Favre, because they obviously don't trust Tarvares Jackson. I like the sixth-round Joe Webb pick quite a bit, and I like the trade of Sage Rosenfels even better. The trade for former Dolphins WR Greg Camarillo was a great addition when it was unclear what would happen with Sidney Rice and Percy Harvin. The Vikings know there's no time like the present (especially when Favre is leading your squad), and they're acting like it.

4. Seahawks: If we were going with the quantity over quality award, Seattle would be No. 1 without question. It started with the hiring of Pete Carroll, though I'm not sure he's the right answer as the head coach (it's hard to get an image of Carroll parachuting out of a sinking USC meteorite and landing softly and safely in the Pacific Northwest). He's helped remake the roster through the draft (Russell Okung, Earl Thomas and Golden Tate) and through (what seems like) hundreds of other moves. I really don't like paying so much money for backup QB Charlie Whitehurst, and I hate that the team has to pay most of T.J. Houshmandzadeh's salary while he's playing in Baltimore (hey, not every single one of those thousands of offseason transactions can work perfectly). But newly-acquired RB Leon Washington looks recovered from his knee injury and WR Mike Williams looks to be resurgent.

3. Ravens: I love the Marc Bulger signing (even if Joe Flacco doesn't). WR Anquan Boldin also will prove to be a very good addition, and now with Houshmandzadeh in the mix, they'll battle with the Bengals for the AFC North crown. I don't think Baltimore is the favorite, but, with GM Ozzie Newsome in its corner, there's no reason to think the Ravens won't return to the playoffs. They've had some bad luck with their secondary, but I'm not sure how much else the front office could have done to improve it. The rest of the team will simply have to cover for the defensive backs.

2. Redskins: Above all else, they hired Mike Shanahan to run the team. This club has made some baffling decisions the past few years – none more so than handing Albert Haynesworth $100 million – but hiring Shanahan to show Haynesworth who is boss and trading for Donovan McNabb, who still has gas in his fuel tank, were good moves. How LT Trent Williams performs – the Redskins chose him over Russell Okung – will be a big factor in how well Washington plays this year. They're not going to win the division, but they'll be better than their 4-12 record from a season ago.

1. Jets: I've made no apologies for my thoughts that the Jets could play for the Super Bowl. Yeah, they weren't great last year, at least until they got in the playoffs, but the front office has improved the team heading into this season. They brought in Antonio Cromartie to start next to Darrelle Revis, and they drafted another CB Kyle Wilson in the first round. They've taken care of three of their Core Four, and even if the timetable with Revis wasn't ideal, at least the deal got done. Plus, the front office extended the contracts of Rex Ryan and Mark Tannenbaum when it didn't have to do so (some see this as a negative, but I like the forward thinking). The jury is still out on LaDainian Tomlinson, but as a No. 2 RB who's not overly expensive, I don't mind the risk at all. The Jets are acting like they want to win the super bowl. How could you not love that?

For more NFL news, rumors and analysis, follow @cbssportsnfl on Twitter and subscribe to our RSS Feed .