Posted by Andy Benoit

It will be strength on strength when the
Bengals
corners line up against the
Patriots
wideouts (Sunday, 1:00, CBS).
First, understand something: New England's receiving corps features the same two stars as 2007 (
Wes Welker
and
Randy Moss
), but it does not feature the same explosiveness.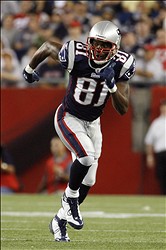 At 33, Moss has dissolved into strictly a straight-line receiver. This isn't the end of the world – we're talking about arguably the greatest deep threat of all time. Moss doesn't quite have the wheels he had in Minnesota, but his speed still ranks in the NFL's upper 20 percentile. More importantly, he's a master at tracking a deep ball and disguising his intentions when exerting for a catch. That's why he was still able to post 1,264 yards and 13 touchdowns last season.
The problem is, Moss is no longer a premium threat when changing directions. He has stiff hips and limited agility. Thus, instead of running any route on the tree, he now only shines running the 9 Route (fly pattern). Moss has never been a good route runner, but he at least used to be dangerous enough to command safety help simply by being on the field. Now, if the Patriots want Moss to command safety help, they have to design plays specifically for him to do so. This ultimately limits the rest of their offense (just a bit).
The Bengals will likely play a safety over the top against Moss, though in cornerback
Johnathan Joseph
, they have perhaps the best deep-ball man-defender in the AFC not named Revis. Joseph has excellent catch-up speed and a keen sense for timing his attack on a hanging ball. (By the way, in case you're wondering, Domonique Rodgers-Cromartie is the best deep-ball man-defender in the NFC.)
More concerning to the Bengals should be Wes Welker. (We'll assume Welker, in his first meaningful game back from ACL surgery, will be his usual self. A big assumption? Perhaps. But the man looked sharp throughout training camp and the preseason.)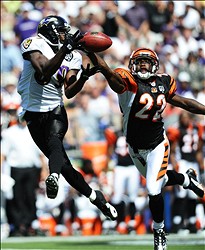 Welker, obviously, thrives as an underneath receiver.
Leon Hall
is a Pro Bowl caliber corner, but he's not a press corner (neither is Joseph). That's virtually a moot point, though, because the Patriots almost always line Welker up in the slot or flanker position (two yards off the line of scrimmage). Still, Hall must be physical with Welker early in his route. Hall is usually tremendous in this capacity, but he's also a tad inconsistent.
The key to Cincy's defense will be whether Hall can control Welker in the five-to eight-yard range. Fortunately, Hall is an adequate tackler. But for preventing Welker from even catching the ball to begin with, the Bengals may want to have weakside linebacker
Keith Rivers
patrolling the underneath flats (stopping Welker in motion over the middle is nearly impossible). By committing Rivers to the flats, Cincy would be gambling with
Chris Crocker
against athletic tight end
Rob Gronkowski
in coverage – but at least that matchups pits an intelligent eighth-year veteran against a first-game rookie. Plus, if Rivers is in zone coverage in the flats, he can combat
Kevin Faulk
's receiving prowess out of the backfield.
If we're to follow this train of thought, then it all comes back to whether Joseph can handle Moss. If Joseph can't, then Crocker will be needed in deep coverage, which means the Bengals would likely end up counting on Roy Williams to cover in the box. Just the idea of Williams in any sort of coverage gives defensive coordinator Mike Zimmer nightmares.
What to expect: a modest day for Moss (say in the neighborhood of five catches, 65 yards), a solid day for Welker (eight or nine catches, 100 yards) but the contest ultimately decided by whether the Patriots can find a third weapon in the passing game.
For more NFL news, rumors and analysis, follow

@cbssportsnfl

on Twitter

and subscribe to our

RSS Feed

.