Posted by Josh Katzowitz
Somebody needs to get
49ers
receiver
Michael Crabtree
a dictionary immediately. Apparently, he doesn't know what a diva is.
"What is a diva?" Crabtree asked the
San Francisco Chronicle.
"Really, I have no idea.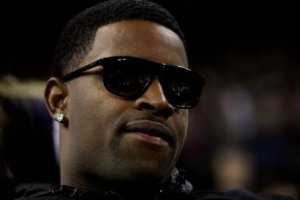 "Isn't a diva a female?" Crabtree said. "I don't know, I'm asking. I mean, come on, that makes no sense. A diva?"
Perhaps, a look in the mirror could answer his questions (or a look to the photo at right. Sunglasses indoors says it all). After all, as pointed out in the article, Crabtree reportedly acted diva-ish in his predraft interviews and he missed 71 days and five games after a holdout last year that basically was a waste of time. Then, recently, he and
Vernon Davis
had an exchange at practice.
Plus, he doesn't like to wear the same outfit twice (actually, my high school girlfriend pulled off that stunt her final two years of high school: she never wore the same outfit twice, which was, I thought, pretty impressive) and has a
thousand pair of shoes (though, I have to admit, I'm a bit of a shoe maven myself).
Crabtree, by the way, wasn't being sarcastic about the diva thing. Apparently, he's legitimately confused by his association with the word.
From the story:
Crabtree is truly baffled by the label he can't shake. In a rare one-on-one interview, Crabtree did much of the asking about his very real perception as a football-style diva.

He wants to know where this reputation came from. He wonders why wide receivers are called divas, whereas a defensive tackle is just considered moody.

Above all, Crabtree wants to understand why people can't just leave him alone so he can play football.

"It's just people's opinion," Crabtree said. "The ones that matter, they know me and what I'm all about. You don't see me in no trouble. I do everything I can to keep my image clean.

"I'm just a regular guy going about my business."
For the record, coach Mike Singletary agrees with Crabtree. Still, somebody, at the very least, should show Crabtree this Wikipedia link.
For more NFL news, rumors and analysis, follow @cbssportsnfl on Twitter and subscribe to our RSS Feed .