Posted by Josh Katzowitz
What Leon Washington has accomplished since he suffered a compound fracture of the tibia and fibula last year with the Jets is almost unfathomable. Despite an injury that could have ended his career and despite a trade from New York to Seattle that left him surprised and unsettled, Washington returned in the preseason with a big question mark attached to his name.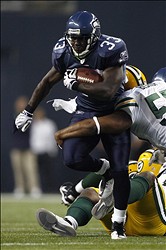 Could he still play at the same level? Of course, that won't really be answered until Sunday when the Seahawks play host to the 49ers and Washington takes the field as a running back and kick returner. But it's worth noting that in his second carry of the preseason, he used his speed to accelerate for an 11-yard TD run.

CBSSports.com caught up with Washington – a newlywed with a new lease on his career – two days before the next step of his journey.

1. CBSSports.com: People are talking about how great a comeback this is and what a feel-good story you are. Did you ever think this wasn't going to happen? Did you think your career was in jeopardy?

Washington: I don't think I ever doubted. But I had questions about the injury and how to recover from it. It's just such a rare injury in the NFL. You only had like six guys in the last 10 years who have had an injury like that. For a running back, with our agility and our speed, it's tough to come back from that. Once I talked to the doctors, they said the knee and the ankle looked fine. They said as long you get healed up from the surgery, you should be fine.

The second day after surgery, I was in the hospital and doing quad sets and trying to start my recovery. I took that approach immediately.

2. CBS: I would ask, 'What's it like to be the new kid on the team," but there are so many new kids, it wouldn't matter. Half the 53-man roster wasn't there last year. It seems like Pete Carroll has turned over the roster quite a few times. What was your reaction when you first heard you had been traded to Seattle?

Washington: At first, I was kind of shocked. It kind of came from nowhere. I sat down with my wife and said, 'Baby, it's Seattle.' But I'm always watching the Discovery Channel and nature shows and know all that the Northwest has to offer. It's really been an incredible place to live. I think other people underrate it.

CBS: Was it tough going from New York, the big city, and just abruptly, you're being told to pack your bags for Seattle and having to adjust to a completely different lifestyle. Is it tough to deal with all that when you've been traded unexpectedly?

Washington: Not so much for me, but it was tough for my family. My wife has a lot of friends and connections in New York. I bounced back pretty quickly, but it was tough for her. I immediately came out here the next day after I was traded, but she was back in New Jersey and trying to take care of everything before we moved.

3. CBS: With so many new people on the team, how do you guys build chemistry with each other? Most of the guys have never played with each other.

Washington: It's going to take a lot of camaraderie, because we have so many different dudes who came from so many different places. But coach Carroll is trying to make everybody feel comfortable around each other. They're emphasizing enthusiasm and doing everything together. I'm probably speaking too fast, but this is probably the closest team I've been on. And I was in New York for four years.

CBS: Why do you say that?

Washington: Maybe it's because I was younger in New York, and when you're young, you tend to stand off to the side and watch. Now, I'm a little older, and I try to lead by example. You're not in the big city anymore – you're not in the Big Apple – but everybody here is an average Joe and I kind of like it.

CBS: Did you watch Hard Knocks? I'm wondering what that's like, considering you know all those guys and were just with them last year.

Washington: To me, it's funny. I know the guys, and when you're watching the guys on television, the TV amps up everything. Watching that Hard Knocks is interesting, and it's nice to come home and relax and watch it. But other than that, I'm not concerned about the Jets.

4. CBS: Where do you fit in as a RB on this team? It seems like you've slid up the depth chart, especially with the Julius Jones controversy on if he was being released and him having to take a paycut. What's the rotation going to be like?

Washington: The best thing about our running back group is the group itself. So many guys do so many different things so well. Us playing together will definitely benefit us. You talk about Julius being in the league for seven years, and (Justin) Forsett can catch and run. Me, I can do some things, too. We're going to take it as a running-back-by-committee approach. The hot hand will be out there. The guys on the sideline will be cheering him on.

5. CBS: So, how was your wedding last year?

Washington: It was great. It was awesome. We went down to the Caribbean, and we got married on the beach. There was a double rainbow. My wife loved it. And you know they say that a happy wife means a happy life, right?

CBS: Actually, I don't know if you heard about this, but I accidently crashed your wedding. I was in Puerto Rico on vacation with my wife, we were at the pool at our hotel, and there was obviously a wedding going on at the beach. So, I walked on over in my bathing suit to watch. I watched the entire ceremony – there were probably 40 people on the beach just watching – and when the minister said, "And now I present to you, Mr. and Mrs. Leon Washington," I thought to myself, "Man, that sounds familiar."

Washington: Yeah, I heard about that. That was you?

CBS: Yeah, but because it was so out of context, I didn't make the connection. Then, I got home and saw pictures on the Internet, and I told my wife, "That was the guy. That was Leon Washington."

Washington: That's awesome. That's awesome.

CBS: But what I'll always remember is you saying your vows, and at the end, you said, "And damn, Charity, you look off the chain today!"

Washington: That's exactly what I said. And she did look off the chain.

For more NFL news, rumors and analysis, follow @cbssportsnfl on Twitter and subscribe to our RSS Feed .