Posted by Andy Benoit
Talking on Around the League last week about the
Vernon Davis
-Michael Crabtree quarrel in Niners practice, we made the point that Mike Singletary must avoid speaking publicly on the matter as much as possible. Singletary's tremendous elocutionary skills have a tendency to inflate stories. Even when he's saying nothing, the man just can't help but say something.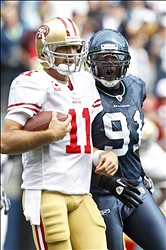 Now, Singletary has an even more delicate issue to handle:
Alex Smith
and the clock management mystery. The sixth-year quarterback did not play well, going 26/45 with two interceptions (though both picks can be blamed on wideout
Michael Crabtree
). More noteworthy, however, might be what was said after the game about the three timeouts San Francisco blew in the first half.
"There were some problems with Alex's helmet," Singletary said. "We had a similar situation last year. When the communication can't come in and it's spotty on the headset and you already can't hear, it makes it very difficult. It's not that the plays weren't coming in. It's that he wasn't getting the plays because of technical issues. It happened a few times. We had to take timeouts because of the headset. It's very frustrating. I guess it just happens to us."
Okay, perhaps Singletary is hinting that something fishy is going on at Qwest Field. Problem is, as
Lowell Cohn of the Press Democrat
points out, Singletary's quarterback doesn't seem to be singing that tune.
Alex Smith chalked the timeout burning up to "management issues…that we've got to figure out."
Smith said, "The only time it was the headset issue, the clock rolled, they were late to spot the ball and I asked (referee) Mike (Carey) to bump the clock and he bumped it. Once the play clock runs down past 15 (seconds) your headset turns off and it never turns back on. He bumped it up to 25 and the headset never kicked back on and that was the one time, really the only time we had a headset problem.
"For whatever reason most of (the timeouts) occurred on third-and one, fourth-and-one, so yeah, whatever it is, deciding on what personnel would go in, deciding on if we would go for it, that decision has to be made. The refs aren't waiting around to spot the ball based on what we're going to decide to do. That clock's rolling. You've got to make that decision if you're going to go for it, then the play's got to get called. You've got to have a call ready. That happens fast. It was all in key situations like that today when we had most of the problems. It's frustrating, absolutely."
In all likelihood, Smith wasn't trying to refute his coach. But, that's why it's not always wise to be transparent in a press conference. Either directly or indirectly, Smith called out the offensive coaching staff. And it's unfortunate for the Niners that these comments contradicted what Singletary had said just moments earlier.
Maybe this never becomes a story. But we know Singletary is great to listen to, and we know Smith willingly shares his mind. The Niners may have an issue to deal with throughout the week.
For more NFL news, rumors and analysis, follow

@cbssportsnfl

on Twitter and subscribe to our
RSS Feed
.