Posted by Andy Benoit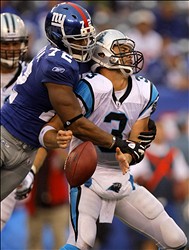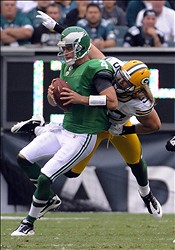 You never want to see a player get hurt – especially when the body part that's hurting is the brain. So of course John Fox is not glad that quarterback
Matt Moore
suffered a concussion against the
Giants
. That said, the reality is, Moore's concussion might make Fox's life easier this week.
Moore was awful against the Giants (14/33 passing, three interceptions). But it would be impetuous to bench him prior to Week 2. Once you bench a young quarterback, it's almost impossible to go back to him (Just ask the
Cardinals
).
But if Moore misses Carolina's Week 2 game against the
Buccaneers
(and with the league's more stringent guidelines for dealing with concussions, it's possible he will), then Fox can get a free trial run with second-round rookie
Jimmy Clausen
. If Clausen shines during that trial run, Fox has his quarterback for the future. If Clausen flounders, Fox can go back to Moore and claim that he was the starter all along.
(For the record,
Fox said Monday
afternoon that Moore is "feeling a lot better".)
On the other side of the concussion story, Andy Reid could have a mess on his hands if
Kevin Kolb
's concussion keeps him out against the
Lions
this week. (And it probably will; Reid has said Kolb won't practice until at least Friday.)
Chances are, Philly will beat Detroit no matter who is under center. So if
Michael Vick
goes out and leads the
Eagles
to victory, fans will say that all of the team's success so far has come with Vick under center. Technically, they'd be right. But that wouldn't mean Vick is the better quarterback. (Remember, the
Packers
didn't game plan for Vick; had they prepared to face a scrambler, things may have been different.)
Fans may want Vick to start, but Reid does not want to immediately bench the guy he believed in enough to trade
Donovan McNabb
. And he won't.
But imagine if Kolb sits against Detroit, Vick lights it up, then Kolb gets healthy for Week 3. Reid would have to explain to volatile Eagle fans why he's benching an electrifying, fun-to-watch athlete and going back to the quarterback who was 5/10 for 24 yards in a lackluster first half against the Packers. Think those fans will understand?
In Reid's perfect world, Kolb would be cleared to play this week. He'd start against the Lions, post good numbers and get the Eagles to 1-1. Even this scenario wouldn't completely hush the inevitable "We want Vick!" chants that are about to sweep across the City of Brotherly Love. But it would at least minimize the damage.
For more NFL news, rumors and analysis, follow

@cbssportsnfl

on Twitter and subscribe to our
RSS Feed
.