Posted by Andy Benoit
Monday we wrote about the consternation surrounding the play-calling in San Francisco. (After the Niners burned three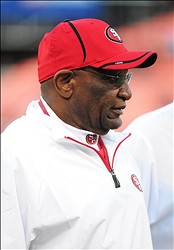 timeouts in the first half, Mike Singletary said there was a problem with Alex Smiths' headset against Seattle; Smith basically said the coaches need to get the plays in quicker.)
Well, according to
Jason Cole of Yahoo! Sports
, the problem could be offensive coordinator Jimmy Raye.
"It seems like Jimmy calls plays from memory a lot of the time and not exactly the way it's written down," a source told Cole. The source said that plays often get garbled. "(Raye) knows the plays and he knows the right thing to call, but he's fumbling through his papers and it's like, 'Hey, we need to get a play called.'"
Cole writes:
Last season, Raye relayed the plays to offensive assistant Jason Michael, who relayed them to the quarterback. This worked well, somehow compensating for Raye's communication issues. But the arrangement diminished quarterback coach Mike Johnson's involvement in the game plan. Cole writes, "As a result, several players went to Singletary this offseason to complain about Raye and the overall situation. Singletary's solution was to change the mechanics of how the plays were sent in. He replaced Michael, who is still on staff, with Johnson in the play-calling process. On Sunday, that became a problem because Johnson couldn't decipher what Raye was saying during tense moments when the Seattle crowd was making noise. Singletary was seen several times yelling at Johnson on the sideline when plays didn't get relayed in a timely fashion."
This is miscommunication in the truest form.
For more NFL news, rumors and analysis, follow

@cbssportsnfl

on Twitter and subscribe to our
RSS Feed
.