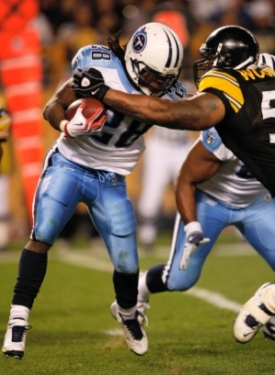 Posted by Josh Katzowitz
I wondered if Andy, in his
weekly key matchup feature,
would look at how the
Steelers
front seven would try to shut down
Titans
RB
Chris Johnson
.
Andy went with
Michael Vick
vs. the
Lions
defense (read it; it's a fascinating look), so that leaves me to make sense of the Tennessee-Pittsburgh game.
Johnson, as you know, has 12-straight games where he's rushed for at least 100 yards. That's two off Barry Sanders' all-time record. But remember, the Steelers are traditionally pretty good at stopping the run – in the past 35 games, an opponent has reached the century mark in rushing only once (Baltimore's
Ray Rice
).
So, what will happen Sunday? Well, if the past is any indication, it could be a long day for Johnson. Last year, in the season opener, he gained 57 yards on 15 carries, and the season before, he was held to 69 yards.
But the past two seasons, Johnson – no matter what
Adrian Peterson
thinks – has been the best RB in the league. Yet the Steelers have their gameplan.
"It's a big priority," OLB
LaMarr Woodley
told the
Pittsburgh Post Gazette.
"You stop the run, you force a team to go to its passing game, which allows us to bring a little heat and get to the quarterback.
"We hit him as a team (the past two seasons). We constantly got to him. When running backs are taking hits after hits from big guys, they slow down a little bit."
True, but not every team can boast the tackling skills of Woodley,
James Farrior
and
James Harrison
. This week, though, Johnson might catch a break because starting NT
Casey Hampton
is out for the game.
Most important for the Steelers is for the defense to maintain gap control.
"He's not real heavy but he's so fast and strong," NT
Chris Hoke
told the paper. "He jump-cuts on a dime, he's very quick at making his reads. You have to make sure you're gap-sound on every play because he gets a little crack and he's gone.
"It's easy for a guy like that, to get everybody a little over-excited – you want to make sure he doesn't make a big play so maybe you get out of your gap a little bit and you run to the ball and he cuts back when you're running to the ball. You have to make sure you stay square to the line of scrimmage so there is no cutback lane."
And what does Johnson – and his teammates – have to do in order to get that 100-yard game? The Titans offensive line has to work harder than the Steelers.
"One thing they do a lot of times is just outwork guys," Titans guard
Leroy Harris
told the
Tennessean.
"Every guy is working to the whistle, no matter what. Their technique is sound. They hold responsibility. They do their job. They outwork guys and they keep running to the ball.
"You can't let the other guy outwork you. You don't let the other guy make the play. We'll do that. We also make sure we see the different looks they have and the blitzes they have. We get bodies on guys."
For more NFL news, rumors and analysis, follow @cbssportsnfl on Twitter and subscribe to our RSS Feed .