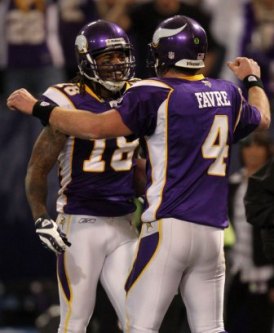 Posted by Josh Katzowitz
Without
Sidney Rice
, the
Vikings
WR corps is worse than I could have imagined.
Percy Harvin
is playing with a hip injury and has had minimal impact the first two games of the season.
Bernard Berrian
has been invisible.
Greg Camarillo
has two catches in two games.
In fact, the only receiver QB
Brett Favre
seems to trust is TE
Visanthe Shiancoe
.
Which is why the Vincent-Jackson-to-the-Vikings rumors live on.
As
Will pointed out Saturday
, San Diego trading Jackson to Minnesota would make sense, even if San Diego doesn't really want to trade him (I guess, then, it wouldn't make that much sense for everybody).
But with another mediocre performance by the Vikings receivers during the team's 14-10 loss to Miami that dropped them to 0-2 on the season, the possibility of acquiring Jackson is looking like a pretty good idea. Especially since Jackson's six-game suspension would be cut to four games if he's traded by 3 p.m. Wednesday.
"It's not for me to decide," Favre told the media after the game, including the
Minneapolis Star-Tribune.
"I've heard the talk just like everyone else. I'll tell you the same thing I tell everyone else: you know as much as I know. All I know is we got to get better with the guys we have in the room. I can't speak for other guys that are not here."
But playing without the 6-4 Rice, that makes life a little more difficult for Minnesota.
"We're running basically the same plays," Harvin said. "It's just sometimes when you have a 6-5 receiver you can just throw it up to him – whether he's covered or not – and he can make a play. From that standpoint, we won't be able to fix that or find another receiver to replace him. We just have to come up with different schemes to try and get people open."
Funny, 6-5 is exactly how tall Jackson is. Hmm.
Expect a decision from the Vikings front office to be made in the next few days. It'll depend on money concerns and on character, and it'll depend if team management thinks it can wait for Rice to return at mid-season before the offense (maybe) kicks into gear.
For more NFL news, rumors and analysis, follow @cbssportsnfl on Twitter and subscribe to our RSS Feed .