Posted by Andy Benoit

1. Too much Manning

This is not an objection to NBC's heavy Manning Family coverage Sunday night. We've come to expect the Manning home videos and Olivia/Archie luxury box shots. And, let's admit it, we like it. And credit NBC for not ramming too many "And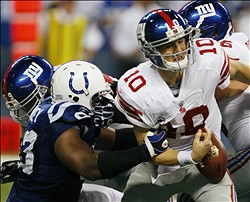 let's not forget, Cooper is a successful human being, as well!" reminders down our throats.

In this case, the "too much Manning" headline has to do with the fact that both players were on the field deep into the fourth quarter. Why? Why play either star in garbage time?

For the Colts, backup quarterback Curtis Painter clearly needs extra work (word is he gets close to zero reps in practice). Why not work Painter? And why not rest Manning and protect him from injury?

Ditto this last sentiment for the Giants. In fact, given the beating Eli took Sunday night, ditto it in all caps: WHY NOT REST MANNING AND PROTECT HIM FROM INJURY!? The Giants offensive tackles couldn't get a fingertip on Dwight Freeney and Robert Mathis (each had two sacks and at least one forced fumble). Plus, backup Sage Rosenfels, acquired from Minnesota after the preseason, could benefit from some live game experience in Kevin Gilbride's offense. So why keep Eli in there and risk injury?

You may be thinking that it doesn't matter, the Manning brothers never get hurt anyway. Yes, and Tom Brady was once a player who never got hurt. Injuries are always a real possibility.

In fact, on that note, why do you think the NFL conveniently schedules these Manning Bowls for early in the season? (The 2006 Manning Bowl took place in Week 1.) The guess here is that the league knows that the deeper in the season the game is, the greater the possibility that one brother will be out with an injury.
2. Bad day to be a bad quarterback

There were plenty of quarterbacks who did receive the treatment that the Manning brothers should have received in the fourth quarter.
***Derek Anderson was benched late in Arizona's blowout loss at Atlanta. Anderson was 17/31 for 161 yards and two interceptions. Backup Max Hall managed to complete two of his three pass attempts, though one of those completions went to Falcons fifth-round rookie cornerback Domonique Franks.

It's likely that Anderson will be the starter against the Raiders in Week 3. It usually takes a head coach six or seven games to come to grips with the fact that they won't be the one to solve Anderson's accuracy woes. Hall's name is more likely to surface in serious discussion around Halloween.
***Dennis Dixon left Pittsburgh's win over Tennessee in the second quarter with a left knee injury. The Steelers have three different starting quarterback candidates next week (it's like a Democratic primary election in Utah, and Ben Roethlisberger is the incumbent Republican candidate). Dixon is one option. Charlie Batch, who was 5/11, 25 yards Sunday is another. And third is Byron Leftwich, who was released earlier in the week but will be re-signed soon (if this was dating instead of football, Leftwich's friends would be telling him he's getting played by the Steelers).

Of course, if the Steelers are going to force seven turnovers and score a special teams touchdown each week, then maybe the man to start at quarterback should be whoever is best at taking a knee. That's all this team seems to need from its offense right now. (For taking a knee, Batch is the best option, given that Dixon and Leftwich are both getting over knee injuries.)
***Sticking with the Steelers-Titans game, Jeff Fisher sat Vince Young late in the second half, citing the need to "get a spark" on offense. The Nashville crowd, forgetting last year's 0-6 start, cheered Collins' arrival, which means we get to spend the next few days once again wondering about Young's psyche (If we're lucky, he'll publicly pout or get in trouble, which will allow us to also wonder about his maturity).

Don't expect Jeff Fisher to wonder about Young's psyche. "I wasn't concerned, to be honest, about (Young's) feelings at that point,'' Fisher said afterwards when asked about the benching. "I was trying to win the football game."

Young was a languid 7/10 for 66 yards with two interceptions and two fumbles (one lost). Fisher insists that Young is still the team's starting quarterback (unless a certain hotheaded 87-year-old suddenly says otherwise). But how can a starting quarterback truly lead a team when the head coach has already tried to spark a comebacker by benching him? (By the way, thanks to an uncharacteristic soft zone defense from Pittsburgh late in the game, the Titans almost did mount a comeback.)
***Raiders head coach Tom Cable wanted to put a spark into his offense as well, so he pulled the covers off the ridiculous lie that Raider fans had somehow tricked everyone into believing: that Jason Campbell is a quality quarterback. The same problems that plagued Campbell in Washington – indecisiveness in the pocket, slow mechanics and a paralyzing fear of taking chances downfield – are, not surprisingly, plaguing him in Oakland.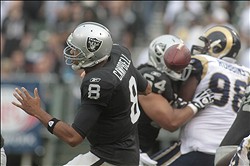 Trailing 7-3, Bruce Gradkowski opened the second half under center for the Raiders and led the offense to 13 points, pulling out a 16-14 win. Gradkowski's numbers were fairly pedestrian – 11/22, 162 yards, a touchdown and a pick – but the Raider offense was markedly livelier under his direction.

Cable hasn't committed to a Week 3 starter at this point, but it's hard to imagine him not choosing Gradkowski. The other players love the veteran's energy. Take a look at this thoughtful, though albeit somewhat illogical, quote from left tackle Mario Henderson: "I said it last year, (Gradkowski) is a great quarterback. A good backup and definitely a great starting quarterback."

While we're on the Raiders offense…

We (I) have been extremely harsh on the first-round skill position players for Oakland. It's not fair to boisterously criticize guys and then go quiet when they actually play well. So, I'm making sure to point out that Darren McFadden had an excellent game Sunday (30 carries, 145 yards). McFadden now has 48 carries for 250 yards on the season. Also, wideout Darrius Heyward-Bey is showing noticeable improvements as a route runner. Heyward-Bey has a unique ability to stop and start with a crisp suddenness. He caught six balls for 80 yards against St. Louis.

***In Carolina, Matt Moore was 6/16 for 125 yards and one benching, as Jimmy Clausen relieved him late in the second half. Moore's completion percentage through two games is 40.8. Clausen may not be ready – if he were, John Fox probably would have used Moore's Week 1 concussion as an excuse to start the second-round rookie – but with opponents now familiar with Moore's weaknesses (which mainly center around pocket toughness), there are plenty who believe the Panthers need to make a change.

***Finally, the quarterback controversy we've all been waiting for seems to have arrived in Jacksonville: David Garrard out, Luke McCown in. At least, that's the way it went late against San Diego. Perhaps it was just a blowout factor. Or, perhaps it was a harbinger of change.
Garrard's four interceptions (three his fault), weren't a result of him trying to make a big play (because he doesn't try to make big plays). They were simply poor execution. The Jags may not be prepared to make the switch under center just yet, but does this sound like a coaching staff that's fully in Garrard's corner?

"We need him to be more consistent. I thought he missed some easy things today."
–head coach Jack Del Rio

"We protected good enough. We've got to throw and catch better. It's that simple."
–offensive coordinator Dirk Koetter.
3. Here you go, Bears fans

I got ripped by Bears fans last week for making three of the 10 Stories That Deserve Your Attention negative bits on the Bears. Well, despite some early pass protection issues, Chicago went into Dallas and came out 2-0. Am I about to offer a mea culpa here? Absolutely not. I still think, ultimately, pass-blocking will be a crippling weakness for Mike Martz's offense. But, just focusing on Week 2 Sunday, the Bears deserve a lot of praise. So let's enjoy the moment and spread some around…
***Jay Cutler was terrific when he got time to throw. And he handled the early pressure from the Cowboys front seven well. Cutler finished 21/29 for 277 yards, three scores and zero interceptions (and for Cutler, a no-pick game is the equivalent of a 550-yard day….so, theoretically, he had 827 yards passing this game). Something Cutler doesn't get praised for enough is his deep ball, which is probably the most accurate in the game.
***Devin Hester's touchdown grab in the back corner of the end zone was the type of play that only happens after hours and hours of footwork drills.
***Matt Forte had 10 carries for 29 yards. (Oops, sorry, didn't mean to include these numbers. I forgot that a positive Bears piece includes pretending that Forte is potentially the next Marshall Faulk.)
***New nickelback D.J. Moore intercepted Tony Romo twice.
***The Bears defense held the Dallas offense to just 13 points.
4. Speaking of the Dallas offense…

This is where we talk about Wade Phillips being on the hot seat, Jerry Jones assembling a team with no chemistry, Tony Romo not being a leader and the myriad of other stars in Big D being underachievers, right?

Well, what if I told you the Cowboys aren't in that much trouble? Yes, the offense has scored just 20 points in two losses on the season. But teams as talented as the Cowboys are always just a few clicks away from exploding.

The Cowboys are still dangerous. Miles Austin looks even better than he did a year ago. Dez Bryant is living up to the hype. Jason Witten is too fundamentally sound to be anything less than the star that he is. Felix Jones, Marion Barber and Tashard Choice haven't forgotten how to play. And guess what? The rest of the NFC East is 1-1, which means the Cowboys are only a game out of first place. It's Week 2, folks.

Of course, if the Cowboys lose next week, then the (stuff) might actually hit the fan. Next week, the Cowboys are facing…
5. The Houston Texans

It's not a Cinderella story if we've all been expecting it for three years. We've been waiting on the Texans forever. (Imagine how we'd view Cinderella if she'd been invited to the ball but shown up late. What a brat!)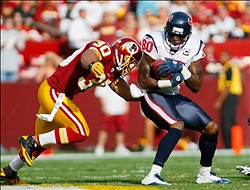 Still, there's no denying that it's fun to see the Texans succeed. One week after upending the AFC South bully Colts, Houston came from 17 down in the second half on the road to defeat a decent Redskins club in overtime.

Gary Kubiak masterfully used his icing the kicker timeout (insert your own "the NFL should do something about icing the kicker timeouts because it just doesn't seem right" comment here….then insert the hollow follow-up comment that inevitably comes after you think about it and realize that there really isn't anything the league can do about icing the kicker timeouts). Right before Redskins kicker Graham Gano successfully booted what was thought to be a game-winning 51-yarder, Kubiak motioned to the line judge. Gano then missed the unwanted mulligan attempt, and the Texans drove down the field and silenced a Redskins crowd that had already gone silent sometime shortly after Matt Schaub's 400th passing yard.

Schaub finished with a gaudy 497 yards passing on the day. His performance overshadows the fact that Houston's D has given up over 400 yards passing in back-to-back weeks. It's almost gotten to the point that it'd make more sense to track Houston's pass defense not in terms of yards given up but in terms of miles given up. But obviously, big days from Peyton Manning and Donovan McNabb against this team haven't been enough. One common theme in both Texan wins has been dominant play by Mario Williams.
Redskins-Texans Part B: karma, irony or just bad blocking

How's this for irony: late in the fourth quarter, Donovan McNabb converted a crucial third-and-20 to keep a potential game-winning drive alive. However, the play was called back thanks to a holding call against Washington's backup offensive tackle, Stephon Heyer. Heyer is a former starter who plays both the left and right side with poor technique (ala a certain Cowboys offensive lineman who made Redskin fans quite happy a week ago).
6. A joke sits out

Defensive tackle Albert Haynesworth was deactivated for this game because of an ankle injury. Jay Glazer of Fox Sports said before the game that the team was sick of Haynesworth making the injury a distraction during the week. Jason Reed of the Washington Post noted, "Haynesworth did not watch the game from the sidelines, which team officials said was normal for inactive players. Offensive lineman Will Montgomery and safety Kareem Moore, however, both joined their teammates on the bench for the game."

The Skins would love to trade Haynesworth, but there are no takers. They can't just cut him because then he would win the power struggle. Haynesworth deserves a 2005 Terrell Owens-like suspension, but the Players Union would raise a stink about that, which only exacerbates the current distraction.

So here's an idea: since Haynesworth is an underachieving part-time player and fulltime headache for Mike Shanahan, why don't the Redskins just put him on Injured Reserve? There's always something physically wrong with the big clown anyway – ankle, knee, (heart?). Wouldn't it be great if, one day, Haynesworth is milking an injury and one of the coaches comes up to him and says, "Boy, Albert, sure does look like you're too hurt to practice. We're going to play it safe with you and keep you out…for the rest of the season." Putting Haynesworth on IR would send a message and give the coaching staff as much power in this whole disaster as possible.
7. Eagles not saving talk radio after all?

Could And Reid actually be curtailing the quarterback controversy in Philadelphia? Despite a very stellar performance from Michael Vick, the sentiment around the league seems to be, "Don't get your hopes up, Reid says Kevin Kolb is still The Guy."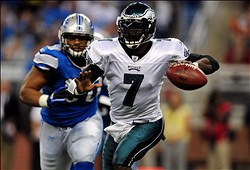 Come on, Andy! Please – please – just let us at least have the fun of speculating about the possibility of Vick stealing the starting job. Pleeeaaaasssseee!

In fact, let us see a little more of Vick before you go putting him on the shelf and running your team the right way. We never get to see electrifying mobile quarterbacks these days. (Probably because of what Bill Walsh once said, which is essentially that athleticism-based quarterbacks put the head coach at the mercy of the man under center.) But the mobile quarterbacks are fun! They're so much more fun than the fundamentally-sound dropback passers.

Yes, it'd be a political nightmare to turn your back on Kolb at this point, but think of how much fun the Vick storyline would be each week!

By the way, for those of you who read last week's Key Matchup on the Lions defense against Vick, for the record, Detroit did indeed wind up playing zone, which still didn't neutralize the speed of the Philly receivers (see DeSean Jackson's 45-yard catch-and-run touchdown). And the Lions did indeed shadow Vick. Instead of using a linebacker, they went with safety Louis Delmas. It wasn't a poorly-executed plan – Vick was held to only 37 yards rushing. But the plan was contingent on Vick not making consistent throws from the pocket. On Sunday, Vick was able to make those consistent throws from the pocket, in part because his escapability eradicated several would-be sacks.
8. Don't fall in love with the Chiefs

Kansas City is a young, up-and-coming team. At 2-0, it will be very easy to forecast them as the breakout club of 2010. Don't.
Yes, the Chiefs are much improved. But their Week 1 win over San Diego was influenced by weather, home opener momentum and huge plays on special teams. Their Week 2 win came against a Cleveland team was counting on Seneca Wallace at quarterback and that specializes in losing home openers (1-11 since 1999). Kansas City's win was also propagated by a Brandon Flowers interception return score and a late missed field goal by Phil Dawson. The Chiefs still haven't shown they can sustain offense under Matt Cassel (check out the iffy Week 1 and very average Week 2 box scores). They're getting better, so be encouraged. Just don't let go of that grain of salt yet.
9. J-E-T-S counting heavily on L.T.

Upon closer inspection, it appears that LaDainian Tomlinson is the No. 1 running back in New York. Can that really be?

We thought Shonn Greene sat most of Week 1 as punishment for early fumbles. But against the Patriots, Greene had just 15 carries for 52 yards. Tomlinson had 11 carries, but they came in bigger moments. He gained 76 yards on those 11 carries and 26 yards on four receptions, showing hints of the lateral quickness and acceleration that made him the best running back in football three years ago.

This isn't to suggest that Tomlinson is the L.T. of old. But Phil Simms said something very interesting during Sunday's broadcast: "What I see with LaDainian that I didn't see as much in San Diego, with him, it is (now) all out every play."

P.S. Tomlinson isn't the only old-timer getting serious work in New York's backfield. Fullback Tony Richardson has handled a majority of the load ahead of Hard Knocks star John Conner (The Terminator). Richardson was excellent against New England.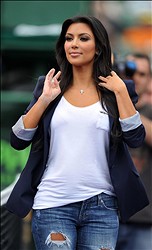 10. FOX chickens out

We'll wrap up by throwing FOX under the bus. This is because the network kept things too P.G. During the Cowboys-Bears game, FOX did a full-screen three-graphic special on Miles Austin. The theme was, basically, how great is it to be Miles Austin right now?

The first graphic was about Austin putting up big numbers on the field. The next graphic was about his big new contract ($20 million guaranteed). The third graphic was about his ripped abs, which he recently showed off on the cover of Men's Fitness.

And that was it. Numbers, contract and abs. No mention of the best thing in Austin's world right now (the reward that those three previous things undoubtedly helped him earn): Reggie Bush's ex-girlfriend.

FOX didn't have the guts to do a Kim Kardashian photo during a football presentation. Fortunately, we do. (And, just to prove that Fox could have done it, we actually used a rare tasteful photo of the sex symbol.)
For more NFL news, rumors and analysis, follow @cbssportsnfl on Twitter and subscribe to our RSS Feed .