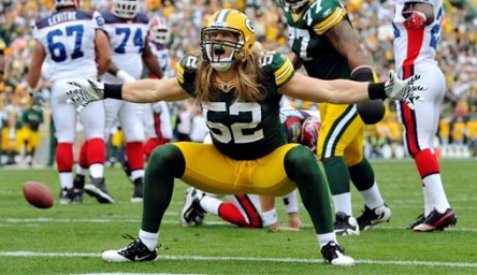 Posted by Josh Katzowitz
In my experiences, it's never too early to hype somebody, no matter how early it is in the season or in a career. Sure, you run the risk of overhype, but then again, who cares? That's partially what makes following and covering NFL football so much fun. Let the compliments and hyperbole fly and see where everything falls (either in the sky with the stars or on the floor with the garbage).
This week, we're examining the second-year players who have impressed us the most this season. Some were not stars last season, but in their second years have shown they are, in fact, pretty good – if not great – players. Some were Pro Bowlers last year who have continued their strong play. Some have finally emerged this year. And some who were really special last year but have done next to nothing this season weren't included.
This is the list in which we celebrate those who haven't fallen into the so-called sophomore slump. Of course, it's only two games into the season. Still plenty of time for those compliments to fall from the heavens and thud to the turf.

10. Mark Sanchez, QB, Jets:
Listen, I know he's not the greatest QB out there. He's got a career 54.7 completion percentage, and he's got 15 career TDs against 20 INTs. But I saw him in last year's playoffs manage his team to the AFC championship game as a rookie, and he has the backing of New York's management. He's not going to be the next
Peyton Manning
, but he's showing improvement. And Sanchez (21 of 30 for 220 yards and three TDs) outplayed
Tom Brady
last Sunday to beat the
Patriots
. Maybe an AFC East title isn't out of the question.

9. Johnny Knox, WR, Bears:
Knox is a member of the powerful triumvirate of players from Abilene Christian who are making an impact in the NFL today (
Bengals
RB
Bernard Scott
and Bears S
Danieal Manning
are the others). He had a solid rookie season on offense, but he really shined on special teams, making the Pro Bowl as a KO returner. He's made seven catches this year so far, and you saw his ability on the 59-yard pass from
Jay Cutler
last week when Knox used his pure speed to burn Dallas CB
Mike Jenkins
and make the catch.

8. Pat McAfee/Kevin Huber, P, Colts/Bengals:
Finally, some love for the punters (though we don't give enough love to give these two an entry of their own). These two were the best punters in the Big East in their final collegiate seasons – McAfee at West Virginia and Huber at Cincinnati – and they've translated those skills into the NFL. McAfee averaged 44.3 yards last year, and though his yards per punt numbers have fallen a bit, he's dropped five punts inside the 20-yard line. Huber, meanwhile, has upped his average yardage to 44.7.

7. LeSean McCoy, RB, Eagles:
Last season, McCoy scored four rushing touchdowns and he caught 40 passes. Already this season, he's scored four rushing touchdowns and caught nine passes. Plus, he's averaging a ridiculous 6.7 yards per rush. He scored three touchdowns in the Eagles win against the
Lions
on Sunday, and it was the first time a Philadelphia RB has accomplished that since 1995.

6. Knowshon Moreno, RB, Broncos:
Remember how big a loss it could have been when Moreno went down with an injury in the preseason – we asked if
Correll Buckhalter
or (yikes)
LenDale White
could take over those No. 1 reps – but since he's returned, Moreno has reminded Broncos fans why they were so worried about his injury prognosis in the first place. After all, he leads the team with 182 total yards of offense.
5. Josh Freeman, QB, Buccaneers:
Behind
Byron Leftwich
and
Josh Johnson
last year, Freeman didn't get any playing time until midway through the season, where he took over the starting role. He kept his starting position throughout the offseason, but he promptly fractured the thumb on his throwing hand in the preseason and missed some time. But since he's returned, he's been quite good, and Tampa Bay surprisingly is 2-0. This, even though Freeman is just 22 years old.

4. Hakeem Nicks, WR, Giants:
With a solid rookie season, Nicks was a guy who could be expected to make contributions behind
Steve Smith
and
Mario Manningham
. Don't think anybody expected this. Of Nicks' six catches on the year, four of them have gone for touchdowns. After catching three of them in Week 1, he rolled his ankle and was questionable for last Sunday. But he returned for the Colts game and secured another one late in that contest. He's becoming a dangerous receiving threat.

3. Brian Orakpo, LB, Redskins:
After Washington drafted him with the No. 13 pick overall in the 2009 Draft, Orakpo had a huge rookie season, recording 11 sacks and earning a Pro Bowl berth. Orakpo's stats aren't quite as big so far this year, but he's still causing plenty of fear among opposing offensive lineman. He's blitzing more often than last year, and against Dallas in Week 1, he forced
Alex Barron
into three holding penalties, including the game-winner.

2. Arian Foster, RB, Texans:
Did anybody see this coming? Especially after last season when he was just a practice squad player in Houston? Well, who would have thought Foster had the 33-carry, 231-yard, three-touchdown career day he had in Week 1 vs. the Colts? Yeah, he came down to earth a little bit Sunday (19 carries for 69 yards and three catches for 69 yards), but still, is there a more exciting RB in the game right now?

1. Clay Matthews, LB, Packers:
He's been the most dominant defensive player in the NFL this year. He's got six sacks already this season, and already, there's talk about him breaking the sack record (um, chances are, this won't happen). But considering he had 10 sacks last year and is already more than halfway to matching that mark, that's an awfully impressive figure. And he's got an impressive head of blonde hair.
For more NFL news, rumors and analysis, follow @cbssportsnfl on Twitter and subscribe to our RSS Feed .