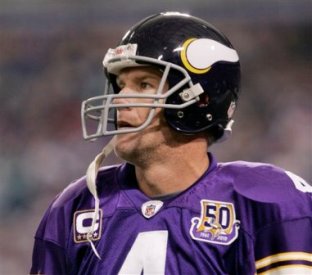 Posted by Josh Katzowitz
Brett Favre
has pretty good self-awareness. At least as it relates to today's weekly news conference with the Twin Cities media.
Entirely appropriate for the starting quarterback of a heavily-hyped squad that so far hasn't won a game and has led an offense that's been crappy thus far, Favre said the
Vikings
offense wasn't exactly clicking on the field. In fact, he painted a pretty bad picture.
"If I sat here and told you that I knew exactly what we're doing right now I'd be lying," Favre said in remarks transcribed by the
Minneapolis Star Tribune.
"A lot of work is left and it will be an ongoing process until we have our unit how we want to go about things and we're not there yet."
That first statement has got to be brutal if you're a Minnesota fan, and there are a couple of reasons it appears Favre doesn't seem to know what's going on.
No. 1, this is what happens sometimes when you miss large portions of training camp. He's gotten away with it in years past, because he's such a good freakin' quarterback. But he's 40 years old now, and maybe he's lost a little bit of that magic.
No. 2, the fact
Sidney Rice
, his favorite target last year, isn't around is killing him. Plus,
Percy Harvin
hasn't been healthy, and
Bernard Berrian
has been a ghost. For some reason,
Greg Camarillo
isn't seeing passes thrown his way, and the only receiver Favre seems to trust at this point is TE
Visanthe Shiancoe
.
So, does Favre have any words that will soothe the wounds of the Vikings supporters? Can he be optimistic, throw a little of that Favre gumption out there to make everybody feel a little better?
Um, not really.
"It's hard to be patient and try to get this puzzle pieced together, because we're doing it as we play," said Favre, who was limited in practice today. "Next week, it could be different. The following week, it could be different. Who knows?"
See, Vikings fans, everything is going to be OK. Or not. Who knows, indeed.
For more NFL news, rumors and analysis, follow @cbssportsnfl on Twitter and subscribe to our RSS Feed .