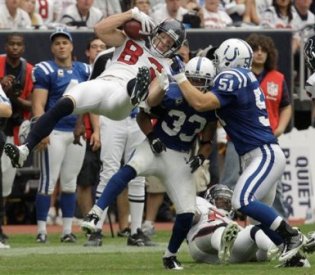 Posted by Josh Katzowitz
Kevin Walter
might be one of the more underrated receivers in the NFL. Perhaps it's because he was an afterthought in the 2003 Draft when the
Giants
took him in the seventh round and promptly released him. Perhaps it's because, though he was solid in special teams with the
Bengals
, he never caught more than 19 passes a season during his three years in Cincinnati.
But after he left for Houston, Walter has showcased his potential. In the past three full seasons, he's combined for 178 catches, and he showed how important he is last Sunday in the
Texans
overtime come-from-behind victory vs. the
Redskins
when QB
Matt Schaub
turned to him when
Andre Johnson
went out temporarily with an injury. He finished with 11 catches for 144 yards and a TD and was a big reason the Texans beat Washington.
We talked to him this week about his career and about how much his older brother beating him up affected his football career.
Previous Five Questions (or more) With …:
Sept. 17:
John Thornton
Sept. 11:
Leon Washington
1. CBSSports.com:
Going into the season, there had been so much talk about Houston's 1-15 record against the
Colts
. How big a game was that for you guys, and how do you not let one game overshadow the rest of the season when you're actually preparing for the season?
Kevin Walter:
No matter who it was against, it was going to be a big game, because it was the opening game and it was at our place. It was a huge game against Indy because they had owned the division the past few years. During our offseason, we talked about why can't it be us, instead of the Colts or Tennessee or Jacksonville? Why can't it be us? We knew it started with us executing and getting the job done.
CBS:
Now that you've actually won, did that dispel some of the doubts that maybe you had? Or the doubts that other people had about whether you could pull that off?
Walter:
People are going to doubt us all year. We haven't been to the playoffs the whole time we've been here. People will still doubt us. People will think these first two wins were flukes. That's OK. We don't care what people think. We care what people in this organization think. We're doing a heck of a job.
2. CBS:
So, what about Washington? You guys fell behind 27-10, and in the past, that seems like a game where you don't come back and you just lose. I think people would have doubted you again if you had lost that game. But you guys did come back and you actually won the game.

Walter:
In previous years, we would have found a way to lose the game. This year, we're finding ways to win that game. This is a new year. We stress that. We're out there for 60 minutes, and we never give up. We were down 17 points, and we were fighting back all game. No one probably believed we were going to win that game, but we weren't bummed out. We knew the offense was getting the ball in the second half.
CBS:
How much does Gary Kubiak play in it? Every year he's on the hot seat, because every year, you guys don't make the playoffs. How much would it mean to you guys to get him to the playoffs?

Walter:
You want to play for Coach. We told Coach we were there to play for this organization, but he's the type of coach you want to go out and bust your tail for. He takes care of us. He's been in the Super Bowl. He's been in the league for a long time. We're out there playing for him.

3. CBS:
Speaking of never giving up, the same could be applied to you. I was working for the
Cincinnati Post
when you were with the Bengals, and you didn't play a significant role on offense. But now you're a 60-catch-a-year guy. Why did it take five years into your career for that ability to show up?
Walter:
When I got the in league, I was a seventh-round pick by the Giants. I was cut, and I got to Cincinnati and I was on the practice squad for five weeks and then I played 11 games my rookie year. We had some great receivers in Cincinnati. Peter Warrick was there at the time, and Chad (Ochocinco) was there, and (T.J.) Houshmandzadeh was there. We had some guys. My niche was doing whatever role they wanted me to do. I played all four phases on special teams. But it was also about working on your craft. I was OK with that. I knew my role, but it was about getting better for each of the roles you had.

CBS:
But you must have thought that on another team, you could have a different role. Did you think you would ever showcase the potential you must have known that you had?

Walter:
When you're in the league, you want to play. If you're a receiver, you want to start. You go make plays and do the things you know you can do. But since I was a late-round pick, that shows you that you have to get your foot in the door. You have to know your role. I knew I wasn't going to catch 60 balls my first three years. But when you're the fourth receiver and then you get the opportunity to start, you better take advantage of it.
CBS:
Andre Johnson overshadows every other WR in the league, not just on his team. But last week, after he went out with an injury, the coaches turned to you. How great was that for you to show that you could carry the load when the top receiver isn't in there?

Walter:
I'm ready for as many opportunities as they want to give to me. Whether it's one catch a game or 11 catches, like it was last week. They know I'm ready to help out. When 'Dre went down, we all needed to pick it up. He leaves a big void out there if he's not there. We need him out there. But everyone made plays. We all made mistakes, but you know what? Everyone that made mistakes also made plays. That's all that counts.
4. CBS:
I read somewhere that when Ochocinco did his stunt after one of his touchdown catches a few years ago – the one where he putted the ball with the end zone pylon – that was your idea. That true?

Walter:
Yeah, I told Chad about that. We were sitting in the receiver's room, and I had mentioned that. We'd always sit in that room and talk about what he could do for celebrations. That was one of the ideas. And he did that the next week, I think.
CBS:
What was your reaction?
Walter:
I laughed. It was a lot of fun to see that. People might think he's a showboat, but he backs everything up and he works so hard in practice.

5. CBS:
OK, I know you have an older brother. How much did that influence your athletic career because I assume you were constantly getting picked on and because, compared to him, you were a runt? Did that impact your career?
Walter:
It challenged me a lot. He's six years older than me, and him and his buddies always picked on me when I was younger. We played football in the snow in Chicago. He was bigger than I was, and he took it to me pretty good.
CBS:
Do you beat him in things now?

Walter:
Oh yeah. He was a golf pro for many years in Chicago and Jacksonville, I play golf all the time in the offseason. He was a real good golfer, but I beat him in golf all the time now. And he hates that. Hey, if he wants to challenge me to a fight … well, he doesn't want to do that anymore.
For more NFL news, rumors and analysis, follow @cbssportsnfl on Twitter and subscribe to our RSS Feed .