Posted by Andy Benoit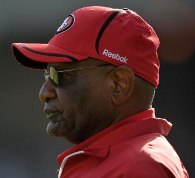 The
49ers
announced that they have fired offensive coordinator Jimmy Raye. This comes just one day after Mike Singletary publicly backed the maligned playcaller. (In fairness to Singletary, his support of Raye was issued during a postgame news conferenc. So what else was he going to say? Can you imagine the backlash if Singletary had fired Raye right there on the spot?)
The 0-3 Niners have been awful offensively in both of their road losses. They scored just six points at Seattle, which was almost as many timeouts as they burned due to slow play-calling. Sunday, the Niners managed only 10 points, seven of them coming in garbage time.
Second-year quarterback coach Mike
Johnson will take over from Raye. Johnson had been serving as the middle man in play-calling (literally...Raye would make the call and Johnson would relay it to
Alex Smith
).

UPDATE (5:40 p.m.):
Here was the transcript from part of today's Singletary news conference.
On changing his mind about Jimmy Raye:
"Well after I got back here I went home, and I said you know what, I'm just going to go back and look at the film. So, I came back here and basically spent the night here looking at film. And just kind of looked at the overall view of where we are, and looking at where we need to go, and felt that I needed to make the change. And so that's really all it was."
On whether he was prompted by Front Office staff to make the move:
"No. One thing I want you to understand is if I make a decision, it's my decision. The thing that I have control over is the 53 man staff, the 53 man roster and the staff, who is on my coaching staff. That is my decision."
On what he saw in the film:
"That I need to make a change."
On what he saw specifically that prompted the change:
"Not going there. Just needed to make a change."
On whether he sought advice on the move or whether he did it by himself:
"Just me sitting here by myself."
On his primary reasons for making the coaching change:
"Well I just felt that for the overall scheme of things, where we are, I just felt that right now that
Mike Johnson
would do a good job."
For more NFL news, rumors and analysis, follow @cbssportsnfl on Twitter and subscribe to our
RSS Feed
.