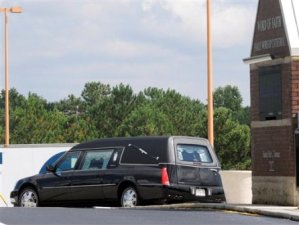 Posted by Josh Katzowitz
AUSTELL, Ga. - With about 700 other people, I attended Kenny McKinley's Monday morning funeral service at the Word of Faith Family Worship Center. We walked into the service at 11 a.m., and the sky was gray and it seemed about to rain. Two hours later, we walked out and the sun was shining.
The service inside matched the weather patterns outside.
It started mournfully. Rev. John Williams, the officiate, reminded everybody not to take any pictures or record the service using video or audio. A huge line waited to see McKinley's open casket. The ushers spoke in soft voices and directed people to their seats.
By the end of a service that was filled with joy, the energy of the people leaving was bright and sunny.
Before I get to that, I'll say this:
Broncos
LB
Wesley Woodyard
gave a nice mini-eulogy, saying "Every day, (McKinley would come into the locker room and teach 61 men how to laugh and smile. I've never seen anybody in my life that taught everybody to smile every single day. Every single day."
Others spoke their memories about McKinley. Former Gamecocks teammates, including
Sidney Rice
and
Eric Norwood
were there, as was coach Steve Spurrier. McKinley's relatives spoke passionately and spoke well.
The best story we heard was from a Columbia, S.C. businessman named John Barbour, who employed McKinley during the summer months when McKinley played for the Gamecocks.
A couple days before South Carolina was to play Georgia in 2008, Barbour asked McKinley to come to the office to meet one of his biggest fans. It was a nine-year-old boy named Andrew Smith, who suffered from brain cancer. One of his last wishes was to meet his favorite Gamecocks player – McKinley.
McKinley, because he was tired, said he would stay five or 10 minutes. Almost two hours later, he was still there.
About a year-and-a-half later, Smith died, and when Barbour called McKinley to tell him the news, McKinley cried.
From my unedited story not yet posted on the
Denver Post
web site:
As McKinley left Barbour's office that day in 2008, Smith stopped him and said: "I don't know if I'll ever see you again, but I'll see you one day in heaven."

The comment made a huge impact on McKinley, and he never forgot Smith.

"Out of all the players who went through, Kenny was the one; Kenny was the guy Andrew loved," Barbour said. "I even asked Andrew why he liked Kenny so much, and Andrew said, 'Because he always smiles.' We talked about how they'd throw the football around in heaven together one day. I'm convinced they're doing that today."
The most spine-chilling event, though, was the song his aunt, Cathy McKinley Toliver, sang near the end of the service. It was
"Ain't No Need to Worry,"
and it was absolutely amazing. People rose up from their seats, raised their arms to the sky and sang along with Toliver. They danced, the ushers moved their arms up and down, and the place basically went crazy. I seriously got chills up and down my spine. I'd never experienced anything like that at a funeral before.
For McKinley's friends and family, it must have been a moment of pure joy and peace. And it's a good thing too. They've needed it.
For more NFL news, rumors and analysis, follow @cbssportsnfl on Twitter and subscribe to our RSS Feed .