Posted by Andy Benoit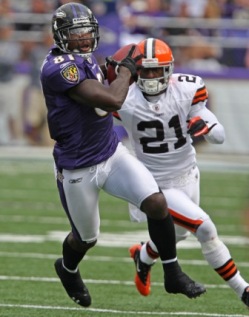 Browns fans won't like this: on Tuesday, Eric Mangini said cornerback Eric Wright will remain in the starting lineup. Wright had a horrible game against the Ravens, giving up three touchdown passes to Anquan Boldin and having that "cornerback lost on an island look" that quarterbacks lot spotting.

"Eric didn't have a good day and when you don't have a good day against a really, really good player [Anquan Boldin], it ends up being a bad day," said Mangini, according to Mary Kay Cabot of the Cleveland Plain Dealer. "I can tell you this, that Eric Wright has played a lot of good football for us all throughout last year, matching up the against the best receivers, doing an outstanding job. He was disappointed and my expectation is he'll play a lot better next week."

Again, fans won't like Mangini's decision, especially with No. 7 overall pick Joe Haden behind Wright on the depth chart. But this is the right call (or the "Wright" call, if you're into that kind of humor). Wright is by no means a star, but he has good quickness and fluid hips. He's also a fundamentally-sound tackler.

Mangini is essentially trusting Wright's body of work and honoring the fact that the former second-round pick improved in each of his first three seasons. That shouldn't be undone by one bad outing.

Wright has a tall order this week. The Browns face the Bengals on Sunday, meaning Wright will be matched up on either Chad Ochocinco or Terrell Owens.

For more NFL news, rumors and analysis, follow @cbssportsnfl on Twitter and subscribe to our RSS Feed .