Posted by Andy Benoit

Tom Coughlin had better be careful. Lately, he's b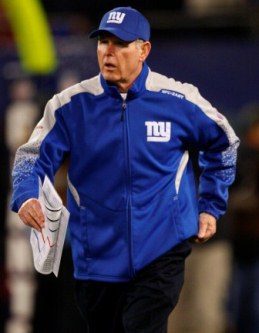 een venting to the media about his team's atrocious past two weeks. It's understandable that the Giants' self-destructive behavior in the loss to the Titans on Sunday would leave the fiery 64-year-old even redder-faced than usual.

But Coughlin must be leery of calling out his players publicly. We may not like Bill Belichick's taciturn nature, but the reality is, it helps the Patriots. Rex Ryan will name names when speaking to the media – and Ryan speaks to the same media as Coughlin – but the only way he'll say anything negative about a player is if that player is on another team (see Crowder, Channing).

Coughlin, though hardnosed, is generally fair with his players. But on Monday while speaking to reporters, he was asked, "What's the problem with the tipped interceptions bouncing off of the receivers?" (Four of Eli Manning's six interceptions have been deflected off the hands of a Giants receiver.)

Coughlin replied, "Why this is taking place with Hakeem (Nicks)…you've got to catch that ball. I can tell you, yeah, the routes should have been this way and the quarterback should have put it here and so on – you've got to catch the ball. If you throw the ball inside the numbers in this league and it is tipped, it's intercepted. That's all there is to it. Goal line – the goal line interception, acrobatic as it was – the interception that…we had a couple of other balls that were tipped that I was holding my breath on and they weren't surprises. It wasn't a surprise. You expect a guy at this level, if he gets his hands on the ball, he better catch the ball. Period."

Coughlin was then asked this question: "Hakeem seems to have issues early in the game. Does he need to change his warm-up or something?"

Coughlin's full response? "Catch the ball."

Yes, Coughlin is simply stating the obvious. Nicks needs to catch the ball. But Nicks already knows that. So what is the upside of his head coach saying it publicly?

If this were Belichick, the question about tipped interceptions would have drawn a two- or three-sentence response with nothing being said and, certainly, no names being mentioned. It would be annoying, but it would also prevent a story.

Now, because of articles like this one, the groundwork has been laid for Nicks to establish a reputation as someone who doesn't hold onto the ball. That has a chance of putting additional pressure on the youngster.

It's likely that nothing bad will come from Coughlin's comments. After all, they're just words of truth. And we'll assume Nicks and the head coach have a good relationship. But, unless you say nothing, there are no guarantees.

For more NFL news, rumors and analysis, follow @cbssportsnfl on Twitter and subscribe to our RSS Feed .