Posted by Andy Benoit

Everything is fine with the
Bengals
. Really. The team is 2-1 and has already defeated division rival Baltimore once.
But we're the media. It's our job to stir the pot under the well-respected cloak of journalism (and, if need be, under the even more-respected cloak of free speech). It's all about drama. That's why we can write articles about a 2-1 facing possible turmoil. Head coach Marvin Lewis seems to understand this concept (understand as in, he's aware that the media operates like this, not understand as in, he's cool with it).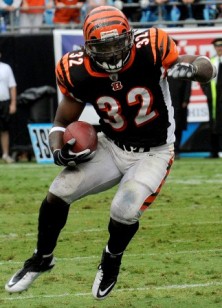 "Not too many teams have to make excuses for winning like that, but I guess we do," Lewis said after Cincy's 20-7 win over Carolina. "So we'll just move forward and I'll say little, our players will say less, and that's the way it will be."
Players will say less? That might seem laughable for a team in which both starting receivers have their own reality shows. But one of those receivers seems to be on board (sort of).
"I usually start the trash talking but the offense has been really stagnant," said
Chad Ochocinco
, according to
Joe Reedy of the Cincinnati Enquirer
. "So I have to back off of that a little bit until we pick up to where we're supposed to be in and do some of the things that's expected of us offensively. It's me. No, I'm serious, everything is me. A lot of media from outside is pointing the finger. When things don't go right with us offensively, it's on me. It's my fault when everything goes wrong. I like the pressure."
Only Ochocinco could announce that he's saying nothing and, in that same breathe, suggest that he's the key to the offense (which, granted, is not entirely untrue).
If there is to be a distraction in 2010, everyone expects it will come from either Ochocinco or
Terrell Owens
demanding the ball. But don't rule out running back
Cedric Benson
. The refreshingly-honest Benson said last week
on Sirius Radio, per Pro Football Talk
, "With all those players and names you brought up [Terrell Owens,
Jordan Shipley
,
Jermaine Gresham
, etc] they're all, except for one, directly involved in the passing game. So, I mean, if I had to guess, it seems that that's kind of the route that we're trying to go, which can be a bit frustrating because we were successful running the football last year and being a power team.
"Being that type of team got us where we ultimately wanted to be, which was in the playoffs. I don't know what would be the reason the team would want to change their identity, unless in the past season it didn't work. But that's not the case here. And, I mean, I don't know. I guess whoever's making those shots, or calling those shots, you got to kind of roll with the punches."
Benson, coming off a 1,200-yard campaign, is in the final year of his contract. He'll turn 28 in late December, which means 2011 will be his last chance at a big NFL payday. It makes perfect sense that he'd prefer a ground-oriented attack this season.
Who knows, if
Carson Palmer
keeps completing well under 60 percent of his passes, perhaps Benson will get his wish. (By the way…did we just accidentally touch on what might be a real problem in Cincinnati?).
For more NFL news, rumors and analysis, follow

@cbssportsnfl

on Twitter and subscribe to our
RSS Feed
.