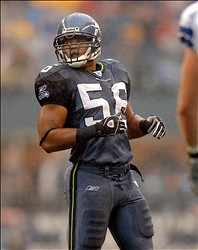 Posted by Josh Katzowitz
It will end up being quite a lost season for Seattle LB Leroy Hill.
The Seahawks placed him on IR Friday for an Achilles injury, and you have to wonder if his time in Seattle might be finished (actually, I'm kind of surprised it continued after his hellacious offseason).
It's unfortunate for Hill, because he has talent and could have made an impact for the Seahawks this season – even if David Hawthorne had usurped him as the starter at OLB. But he doesn't make it real easy to root for him either, and how much value does he have if he's only a backup making quite a bit of money?
And honestly the Seahawks probably don't need the distraction of keeping him around.
Just to recap – because this might be the last time we mention Hill's name for a while – here's what he's been up to lately:
-In April, he was charged with fourth-degree domestic violence in Issaquah, Wash. When police investigated, his live-in girlfriend apparently showed signs of injury, but she declined to cooperate with authorities. Hill avoided trial by entering into stipulated-order of continuance, meaning that, in order to be cleared, he has to live under the court's guidelines for 18 months.
-Also in April, he pleaded guilty to a marijuana charge in Georgia.
-The Seahawks asked him to stay away from the team headquarters during spring workouts.
-He sprained his knee in August and missed much of the preseason.
-He took a paycut to stay with the team (from $6 million to $2.125 million).
-He was suspended for the first game of the season for violating the league's substance abuse policy.
-He watched that game from the stadium, which violated the terms of his one-game suspension.
-In his first action of the series in Week 2, he suffered a season-ending Achilles injury.
Not that we should be feeling sorry for Hill, because we most certainly shouldn't. But man, that's a tough offseason, eh?
For more NFL news, rumors and analysis, follow @cbssportsnfl on Twitter and subscribe to our RSS Feed .