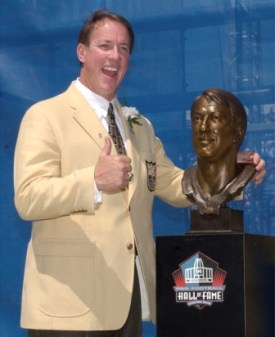 Posted by Josh Katzowitz
You've got to love Jim Kelly's ability to flip-flop-flip when it comes to talking about the Bills starting quarterback.
In July, Kelly talked about how he wanted Trent Edwards to beat out Ryan Fitzpatrick and Brian Brohm to grab the Buffalo starting job. Which would have been fine, except for eight months earlier when Kelly told USA Today, "I like Trent personally. He works hard. But he's had three years. It's time to find somebody who is the future of the Buffalo Bills. If I'm the owner, that's what I'm thinking."
So the Jim Kelly of 2009 was in complete disagreement with the Jim Kelly of 2010 about whether Edwards was the right fit for the Bills. Until, rather predictably the Kelly of 2009 reemerged today and said the decision to replace Edwards with Fitzpatrick – and I assume the decision the Bills made to release Edwards entirely – was the move that had to be made.
Writing for the
Bills official site,
Kelly pens the following in his lede paragraph:
"They had given Trent (Edwards) many, many opportunities and it just didn't work. I tip my hat to Chan Gailey for doing it and not waiting until later on. Trent is a good guy and a friend and unfortunately it just didn't work out for him. I wish him nothing but the best of luck, but sometimes players need a fresh start and a different atmosphere. Hopefully this is something that will benefit Trent moving on to another team."
Kelly continues by praising Fitzpatrick, though he admits he doesn't know if the Bills new starter is the team's quarterback of the future. Then, by complimenting Fitzpatrick he manages to insult Edwards – who's now in Jacksonville.
"I definitely saw positive things that I wasn't seeing from Trent. The good thing is Ryan is not afraid to throw the ball in there and take chances. Unfortunately two of those chances he took at New England didn't work out for him and they resulted in turnovers. But at least it's the right approach where he's not afraid to stick the ball in there and take a chance to make a big play. You have to get defenses to respect you arm and respect your passing game before you can even be successful.
"Any time defensive backs are hunkered down and they don't have to worry about the deep throw, they're going to be right on the ball every time. They're going to be making breaks on the ball and defensive backs won't be in their full backpedal. Unfortunately for the Bills the opposing defensive backs weren't worried about the deep throw much. They were making quick breaks on the ball and taking advantage of it."
And just in case Kelly changes his mind, he hedges his bets later in his post by writing that it wouldn't be a terrible idea to get Brohm some playing time as well.
Now we wait for the Jim Kelly of 2011 to dismiss Fitzpatrick and endorse Brohm as the starter.
For more NFL news, rumors and analysis, follow @cbssportsnfl on Twitter and subscribe to our RSS Feed .