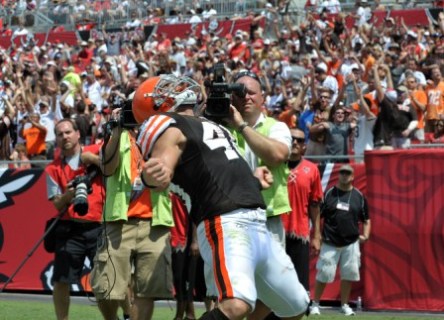 Posted by Josh Katzowitz
We're a quarter of the way into the season, and some players who were originally slated to be backups suddenly have emerged as starters. Maybe it was through an injury to the former starter. Maybe it was because the starter wasn't as good as the team thought and the backup was better. Maybe it was because – and Wally Pipp could relate to this – somebody just needed an off-day.
In fairness to the old-time Yankees first baseman, who was replaced one day (permanently, it turned out) in 1925 by a guy named Lou Gehrig because Pipp had a headache, that story might not be true exactly. Instead, he might have been benched because manager Miller Huggins simply wanted to shake up the lineup. Either way, Gehrig played the next 2,130 games, and Pipp ended up in … Cincinnati (and apparently, he was also one of
Sports Illustrated's
first writing hires, one of those cool but useless facts).
Anyway, there have been some impact players to emerge this season so far, simply because they, like Gehrig, were given that chance to shine. Some have won a starting position. Some are just holding it until the real starter returns. But they're all making a (mostly good) impression. It sounds like the perfect Top Ten With a Twist list to me.
10. Lance Moore, WR/PR, Saints:
The story of Moore's career. A Saints starts gets injured. Moore steps in and makes plays. Remember in 2008 when Moore caught a team-high 79 passes for 928 yards and 10 touchdowns after
Marques Colston
was hurt? Obviously, when
Reggie Bush
returns from his broken leg, Moore will fade back into the background – maybe. But man, he looked electric against the
Falcons
(six catches, 149 yards, two touchdowns), and he's become a big target for New Orleans when it's in the red zone.
9. Max Hall, QB, Cardinals:
Look, we all know
Derek Anderson
isn't a very good quarterback. But I didn't think he would have a chance to lose his job this early. Hall, meanwhile, was a 2010 undrafted free agent (seriously, how poor is Anderson to lose to an undrafted free agent?). Not that Hall was great when he replaced Anderson on Sunday, because he wasn't, but he might be Arizona's best option at this point. Coach Ken Whisenhunt, meanwhile, isn't talking. "I think we're going to go without [a quarterback) this week," he joked Monday. "I think we're going to go with all Wildcat."
8. BenJarvus Green-Ellis, RB, Patriots:
He averaged about eight carries per game his rookie year in 2008, but with
Kevin Faulk
lost for the season – and
Fred Taylor
unavailable for the Miami game Monday – Green-Ellis (47 carries this year for 215 yards) has already nearly doubled his attempts from last year. He had his breakout in Week 3 against Buffalo when he carried the ball 16 times for 98 yards and a score, and vs. the
Dolphins
, he was impressive with a 16-carry, 78-yard, one-touchdown performance.

7. Shaun Hill, QB, Lions:
The reason Hill is so low on this list is because there's no way he'll take the job from
Matthew Stafford
. But still, how impressive has Hill looked the past few weeks? After Stafford went out with the shoulder injury in Week 1, Hill was terrible. But the past three weeks, he's completed 61.9 percent of his passes for five touchdowns and six interceptions (he's also averaging 301 passing yards per game), and he really impressed me in Detroit's two-point loss to Green Bay.
6. Bruce Gradkowski, QB, Raiders:
It didn't take long for Raiders coach Tom Cable to figure out that, in order to save his job, he'd take his chances with Gradkowski instead of
Jason Campbell
. This is not to say Gradkowski is an elite quarterback, because that's a laughable notion. But he played well at times when he was in Tampa Bay after Chris Simms ruptured his spleen in 2006 (Gradkowski failed to win the starting job in 2007). For now, though, Gradkowski is entrenched as Cable's guy. As long as Cable is around.
5. Koa Misi, LB, Dolphins:
Ikaika Alama-Francis
was supposed to be the starter, but the night before the season opener, he caught some kind of illness and he's been recovering ever since, losing 15-20 pounds in the process. Misi, the team's second round Draft pick this year, has taken over his starting spot with consistent play and a smooth transition to the pro game. It was originally thought that Misi's main objective would be as a situational pass-rusher – he was, after all, a defensive end in college – but he's proven his worth as an every-down back with two sacks and a fumble recovery TD. In the meantime, he's also Wally Pipp'd Alama-Francis.
4. Taylor Mays, S, 49ers:
Mays so Wally Pipp'd former starter
Michael Lewis
that San Francisco released Lewis Monday, the day after Mays' huge game against Atlanta. Mays had taken Lewis' starting job already, and it sounds like Lewis asked for his release, but still, that's pretty impressive for a rookie. Mays, in case you didn't see it, had a phenomenal touchdown (both feet down!) after a punt block to give San Francisco a 14-0 lead. He also made 11 tackles.
3. John Carney, K, Saints:
Carney, who will turn 65 later this year (I'm kidding, he's 46), has returned once again to the NFL, and after making three kicks this past week, you have to wonder how much longer
Garrett Hartley
will stay on the roster – or why he's on the roster at all at this point. Obviously, Carney isn't the future kicker in this organization, and maybe the Saints are keeping Hartley around, because they're hoping he can overcome what's been a terrible start to the season for him. Otherwise, he'd already have been Pipp'd.

2. Ryan Torain, RB, Redskins:
Torain and
Clinton Portis
have split carries, but it seems that if this was the 100-meter dash at the Olympics, Torain would be Usain Bolt and Portis would be the other seven guys. Meaning Torain is pulling away and eventually will take Portis' starting role. It could happen this week actually as Portis hurt his groin Sunday. Let me also briefly mention San Diego's
Mike Tolbert
, who replaced first-round pick
Ryan Mathews
when he was injured and rushed for 255 combined yards the past three games (including a 100-yard performance Sunday when Mathews was in the game). But coach Norv Turner says he's committed to keeping Mathews as the starter, so Tolbert doesn't fit on this list all that well.
1. Peyton Hillis, RB, Browns:
It was supposed to be
Montario Hardesty
and
Jerome Harrison
running the ball in Cleveland. Hillis – who was traded from Denver in the
Brady Quinn
deal this past offseason – was supposed to be just an afterthought. Baltimore's
Terrell Suggs
had never heard of the guy until he ripped off 180 total yards (144 on the ground, the most Baltimore has allowed in five years) against the
Ravens
. With Hardesty out with a season-ending injury and with Harrison failing to make an impression on the Cleveland coaching staff, Hillis has taken advantage, tying the league high with four touchdowns and averaging 4.9 yards per carry. Like Gehrig, it appears that Hillis has no future plans to give up his starting spot.
For more NFL news, rumors and analysis, follow @cbssportsnfl on Twitter and subscribe to our RSS Feed .