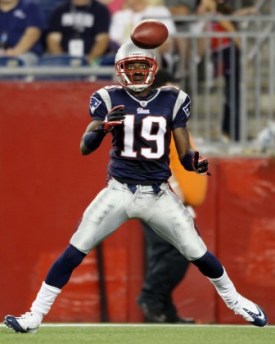 Posted by Josh Katzowitz
Some of you were introduced to
Patriots
WR
Brandon Tate
on Monday Night Football when he used his immense speed to burn the
Dolphins
special teams and return the second-half kickoff for a 103-yard TD. Well, if you liked what you saw, get ready. You'll be seeing a lot more of Tate now that
Randy Moss
has been traded to the
Vikings
.
You might not believe this, but with his nine catches, Moss ranked fourth on his team in receptions. As the season wore on, Patriots QB
Tom Brady
didn't target Moss quite as much and elected to throw the ball to
Wes Welker
, TE
Aaron Hernandez
and Tate.
On the surface, it seems like Welker will be the most affected by the Moss trade. In the same way Minnesota's
Percy Harvin
will benefit in the slot when Moss – and the stretching-the-field ability he brings to each snap – is on the field, Welker loses perhaps the best deep threat in the game. The Patriots obviously hope Tate can grow into that role. This also might provide a good opportunity to see what third-round pick
Taylor Price
, who's been inactive for all four games this year, can do on the field.
You also have to wonder if Moss had become a distraction (no, not Randy Moss!). He bitched about his contract after the Patriots beat Atlanta in the season-opener, and according to a few reports, Moss was lazy in his blocking (what, Moss lazy in his blocking?!?) during the Miami game in which Brady targeted Moss just once.
Unless we're talking about addition by subtraction, this move doesn't do much to help the 2010 version of the Patriots. I've already mentioned how Minnesota feels
the need to win the Super Bowl this year,
and I imagine New England also wouldn't mind hoisting the trophy at the end of the season. But does trading Moss away get the Patriots any closer to that goal?
I don't think that it does.
The defense has been unimpressive – it ranks 28th in the NFL - and until the Patriots special teams began to dominate the Dolphins, New England struggled to score points on offense (I realize the Patriots, at this point, are the No. 1 NFL team in points scored, but they also rank 11th in total yards per game).
Plus, the wide receiving corps is simply not as good as it was yesterday.
But think about this. The Patriots won the Super Bowl in 2002, 2004 and 2005. Those years, the top WRs were players like Troy Brown, David Patten,
Deion Branch
, and David Givens. Solid guys, but nobody extra special. Nobody like Moss.
For more NFL news, rumors and analysis, follow @cbssportsnfl on Twitter and subscribe to our RSS Feed .