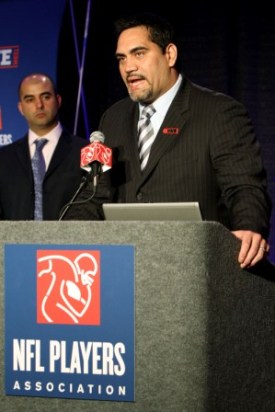 Posted by Josh Katzowitz
The NFL Players Association is possibly readying a collusion case against the NFL owners, according to the
Washington Post,
and sources tell the paper the case could be filed in the next month.
"The players continue to gather evidence on possible collusion," George Atallah, the union's assistant executive director of external affairs, told the paper Friday.
On Saturday,
USA Today
spoke to NFLPA president Kevin Mawae, who said he didn't know about a possible collusion case. But he also said the union has discovered some interesting nuggets about the owners' spending habits on free agents.
"It (collusion) is something we have talked about," Mawae told USA Today. "We have been looking at spending habits this year to see if there is an overall (blueprint). What we're finding is that teams are spending a lot less now than what they have in the past — even with the cap.
That includes smaller contract offers to restricted free agents – and a decreased level of activity overall in the free agent market.
From the Post:
The union's prospective collusion case also could cite trades between the Washington Redskins and St. Louis Rams and public comments made by Cincinnati Bengals coach Marvin Lewis, according to one individual.

The case would question, this person said, whether the Redskins and Rams made two trades before the season to avoid releasing rookies that they'd drafted and circumvent a rule requiring a team to allocate 85 percent of the $320,000 rookie minimum salary to other rookies on its roster if it releases a drafted rookie.
On a conference call with the Tampa Bay media this week, Lewis talked about his dismay that the
Buccaneers
signed Bengals draftee
Dezmon Briscoe
– a WR the Bengals definitely wanted to sign to the practice squad – to the Tampa Bay practice squad and gave him a $325,000 rookie minimum contract (rather than the approximately $90,000 most practice squaders make).
"When you overpay a guy on the practice squad, you create a problem for teams," Lewis was quoted as saying. "I don't know that teams want to set that precedent and they did with Dez.
"That's not a great precedent for teams to set as we try to keep the NFL and doing the things we're trying to do as a league. It's still a league of 32 teams and things are put together a certain way."
We'll continue to monitor this story. A collusion case would certainly make for some interesting copy.
For more NFL news, rumors and analysis, follow @cbssportsnfl on Twitter and subscribe to our RSS Feed .