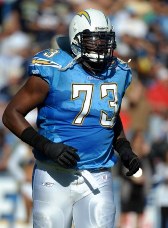 Posted by Will Brinson
Marcus McNeill ended his holdout and reported to the San Diego
Chargers
, although he lost a ton of money and missed the first few weeks of the season -- turns out he definitely should have just shown up on time, as the team reportedly rewarded him with a five-year contract extension.
That's according to Adam Schefter at halftime of this, ahem, thrilling
Vikings
-Jets game on Monday night, and it's something that makes sense, because McNeill, while not the best left tackle in the game, is pretty critical to the Chargers offense (although they played well without him).
What's so mind-scratching, though, is that both he and the Chargers wasted a significant amount of either games or money, depending on which side you're talking about, to get this done.
On the other hand, A.J. Smith has established -- quite firmly -- that he's got a "no negotiation with malcontents" policy, and if he says he's moving on without you, he's actually moving on without you.
Which is to say, don't expect the Chargers and Vincent Jackson to mend fences any time soon.
Update (11:15):
Additional sources are reporting the McNeill extension, including Lee Hamilton a San Diego radio host. Kevin Acee of the
San Diego Union-Tribune
reports that the deal "is not done, but obviously close enough that ESPN was tipped" and is "expected to be announced tomorrow."
"That's not the case,"
Smith told Acee
. "If there is something to report we'll let you know."
However, Acee added that some final negotiating points "won't be an issue" and something should get done.
For more NFL news, rumors and analysis, follow

@cbssportsnfl on Twitter and subscribe to our RSS Feed .