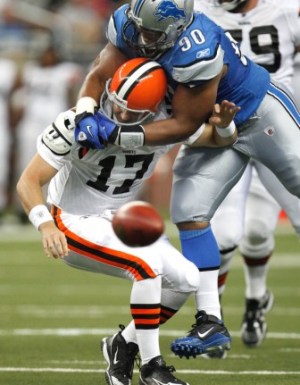 Posted by Josh Katzowitz
I saw a stunning stat on Twitter as the
Browns
mucked their way to a loss against the
Falcons
this past Sunday. It had to do with how much money QB
Jake Delhomme
is pulling in this year. Naturally, the number is ridiculous, as I'll detail further in the below paragraphs.
But it gave me the idea for the newest edition of Top Ten With a Twist. Who are the most overpaid players in the game today? By overpaid, I mean the players who are either busts or has-beens or guys who simply found an owner who decided that spending tens of millions of dollars on a problem child was the way to go.
I'm not talking about rookies like
Sam Bradford
. Of course, the first-round NFL draft picks are overpaid, but at this point, I'm not including them on this list (it'd be an entirely new list altogether). Instead, I'm including guys like Delhomme – either guys who have been around the league for a while who are getting a good payday because they were good at one time, or guys who were supposed to be good but haven't shown it.
Be forewarned: the salaries we'll discuss might make you a little nauseous. So, pop a Dramamine or two and let's go.
10.
Eli Manning
, QB,
Giants
: Before last season, you'll recall, Manning signed a seven-year deal worth $106.9 million that pays him an average of about $15 million from 2009 through 2015, and that doesn't include his endorsement deals. There's little doubt that Manning is the most important player on the team, but is he really worth the money? I'm not saying Manning isn't good, because he
is
a good quarterback. But he's not an elite top-five kind of guy, and he's making elite top-five kind of money. For what it's worth, he currently makes more than his brother, Peyton (and his oldest brother, Cooper, for that matter).
9. Marvin Austin, DT, Tar Heels: OK, we're getting a little ahead of ourselves if we're talking NFL. But look at the damage Austin – well, the recruitment of Austin – has done already and look how much money it's cost the people around him. Austin apparently accepted gifts and other improper benefits from agents (the NCAA determined it was worth between $10,000-$13,000). As a result, Austin was kicked off the team Monday and UNC teammates Robert Quinn and Greg Little have been made permanently ineligible, the NCAA has brought up academic violations, coach Butch Davis might get fired, the Tar Heels football program has been set back in a major way, and the school in general has taken a hit to its reputation. That's quite a bit of money Austin indirectly is costing everybody, and as one of my colleague says, "And he hasn't even played yet!"
8.
Joey Porter
, LB,
Cardinals
: Blame the team in this case instead of the player. The team which gave a 33-year-old LB a three-year deal for $17.5 million which could max out at $24.5 million. Porter was coming off a pretty good season in Miami in 2009, where he recorded nine sacks in 14 games. This year, though, has been a rough one. He's recorded 16 solo tackles, good for 10th on the team, and he's only recorded one sack through the team's first five games. No doubt that Porter has had a standout career, but there's also little doubt that he's not the player he once was. He's still making good bank for it, though.
7.
Brandon Jacobs
, RB, Giants: Perhaps if Jacobs had been signed as a discus hurler, his four-year, $25 million extension that he signed before last season would have made sense. Instead, Jacobs is solely a RB who's gained 172 yards in the team's first five games and who's lost his starting position (for the record, in 2009, his attempts rose from the 2008 season, but his yards gained fell and his touchdowns dropped from 15 to five). Plus, you had the throwing-his-helmet-into-the-crowd incident at the Indianapolis game. The $15 million he was guaranteed doesn't look so good now.
6.
Darrius Heyward-Bey
, WR,
Raiders
: We're not discussing rookies in this list, but that doesn't mean we can't talk about second-year players (or players that are still in college, I suppose). For some reason, the Raiders took him with the seventh pick in the 2009 Draft, and then they blew up the slotting system by awarding him a five-year contract worth $38.25 million ($23.5 million guaranteed). He promptly went out and caught nine passes in 11 games. This year, he's got 11 catches through five games, so that's an improvement. Good thing the Raiders took Heyward-Bey instead of, say,
Jeremy Maclin
.
5.
Tyson Jackson
, DE,
Chiefs
: He was the third overall pick of the 2009 Draft, and while he wasn't great last year – hell, he wasn't even decent – he wasn't the worst bust in the history of the Draft. It could be argued that he wasn't nearly as bad as
Glenn Dorsey
, the Chiefs 2008 first-round pick who had tallied exactly two sacks in his first two years. But Dorsey is playing better this year, while Jackson – 38 tackles last year but zero sacks – has been out with a sprained MCL. At this point, he's a big disappointment.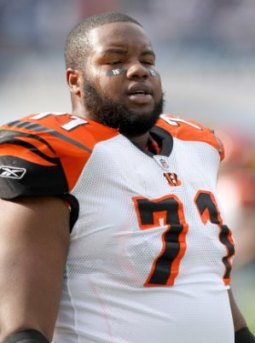 4.
Andre Smith
, OL,
Bengals
: The one thing I'll always remember about Smith – aside from the whole running-the-40-shirtless-at-his-pro
-day-only-to-be-mocked-unmercifully
thing – is that after he signed his contract for $21 million on HBO's Hard Knocks, his agent turned to him and said, "Congratulations. You're a millionaire now." Yep, that's pretty much how he's acted the past two years in Cincinnati. He's been overweight, and his work ethic has been questioned. He only played in six games last season, starting one, and he still can't be used as an every-play offensive lineman.
Dennis Roland
, who's much less talented than Smith, has been starting ahead of him.
3.
Matt Cassel
, QB, Chiefs: One good year can get you a big contract, and for proof, look no further than Cassel. In 2008, he led the
Patriots
to a 11-5 record while completing 63.4 percent of his passes for 3,693 yards, 21 touchdowns and 11 interceptions. After New England QB
Tom Brady
returned, Cassel signed with the Chiefs for a six-year, $63 million deal with $28 million guaranteed. Not bad for a career backup in the NFL and in college at USC. This year, he's completed 54.7 percent of his passes for 650 yards (about 162.5 yards per game), four TDs and three INTs. That's not much production for a guy being paid a lot of money.
2.
Albert Haynesworth
, NT,
Redskins
: You thought I was going to put Haynesworth No. 1, didn't you? While we've spent so much time on Haynesworth and the $100 million contract and the tens of millions of dollars of guaranteed money, he's begun to play better lately (he sat out this past week, though, after the death of his brother). Surely, he's not worth the money, but considering some thought he could have been released from the Washington squad at this point, the fact he's still playing is sort of a win. Sort of. Still, it's hard to overlook the fact he's made six tackles and recorded exactly zero sacks this season.
1. Jake Delhomme, QB, Browns: Ah, the impetus for this column in the first place. Delhomme, between what the Browns and his former team, the
Panthers
, are paying him, is making $19.7 million this season. Doesn't that number just absolutely blow you away? He started the first game of the season but was lost for three games with an ankle injury. Then, he backed up
Seneca Wallace
against the Falcons on Sunday, replaced him when he went out with an ankle injury and then reinjured his own ankle. He's likely to be out for a while now. On the year, he's 33 of 60 for 324 yards, one touchdown and four interceptions. Not real good. Not a real good return on Cleveland's money either.
For more NFL news, rumors and analysis, follow @cbssportsnfl on Twitter and subscribe to our RSS Feed .