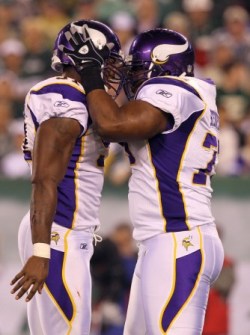 Posted by Josh Katzowitz
Vikings
DT
Jimmy Kennedy
is not a happy man. Nope, not happy at all.
He missed the first two games of the season because of a knee injury, but since he's returned to Minnesota, he hasn't exactly received as much playing time as he'd like. Today, he let the world know about it through the
St. Paul Pioneer Press
.
Kennedy apparently is "frustrated as hell."
"I'm pissed off with playing 15 plays last game," Kennedy said. "I'm pissed off being under 30 snaps for the season. I'm never a cancer. That won't happen. But look, as a competitor, I damn sure don't like standing on the sidelines playing cheerleader – 'Hey, let's go, rah rah.' (Forget) that. Not me. But if that's what it takes this year in order for us to get a championship year, then so be it."
He said he's not blaming the team; he's blaming himself for not living up to his own standards – he's got four tackles and a half-sack on the season. Oh, and he also doesn't care what his coaches think. Some would question the wisdom of that attitude, but Kennedy seems confident in himself, so I'll let it slide.
"Honestly, I don't care," Kennedy said. "I don't care what they think because I know I'm going to go out there and do my thing to help this team win."
For more NFL news, rumors and analysis, follow @cbssportsnfl on Twitter and subscribe to our RSS Feed .