Posted by Andy Benoit

Bryant McKinnie
,
Steve Hutchinson
,
Ryan Cook
,
Anthony Herrera
and
Phil Loadholt
should all send Jenn Sterger a gift. Obviously, not the kind their quarterback allegedly sent her. But something nice. You know, to show their appreciation. In fact, th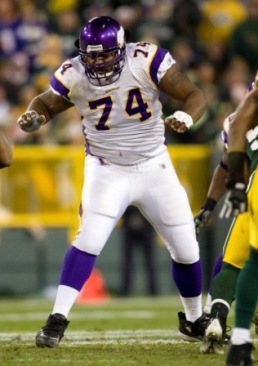 ey should send Favre a gift, too. And
Randy Moss
.
Thanks to Sterger, Favre and Moss, no one is talking about Minnesota's inconsistent offensive line. Yes, injuries at the wide receiver position have hurt the
Vikings
. And Favre has been less careful with the football this season (though the difference between '09 Favre and '10 Favre is not as drastic as most think). But inconsistency up front has been just as significant to the Vikings' problems in 2010.
One of the greatest myths in all of football is that the Vikings have an upper-tier offensive line. This myth stems directly from the erroneous reports that left tackle Bryant McKinnie is a good player. There's a difference between being big and talented and actually being effective. McKinnie has shoddy technique in pass protection (hence his benching in the Carolina game last season) and, quite frankly, he's soft on contact.
Steve Hutchinson, who turns 33 November 1, is not quite the player he was a few years ago – his decline shows up against bull-rushers in pass protection – but shrewd run-blocking angles and fluid mobility still make him a top five guard.
The problem is that Hutchinson has been forced to play next to three different centers –
John Sullivan
,
Jon Cooper
and, lately, Ryan Cook – who lack power. That has been a major hindrance to Minnesota's run-blocking efforts, especially when you consider that right guard Anthony Herrera struggles against lateral movement in the ground game and right tackle Phil Loadholt often seems to forget he's 6'8", 332 pounds. Herrera is a reliable veteran on a good line. But playing between two callow youngsters, he can be a liability.
Adrian Peterson
has helped his offensive line this season by being a more patient runner. But far, far too many of Peterson's yards are still hard-earned. And without
Chester Taylor
sharing Peterson's load, the Vikings have taken a step back in the screen pass game. That has allowed opponents to tee off against this line.
If the
Packers
can get
Clay Matthews
(hamstring) and
Ryan Pickett
(ankle) back, their front seven will be on the right side of a considerable mismatch Sunday night. Matthews skims the corner as well as any pass-rusher in the NFL; because he maintains his startling speed while dipping low, he can really use McKinnie and Loadholt's height to his advantage. Inside, Pickett and nose tackle
B.J. Raji
have the thundering power to own the line of scrimmage.
The Vikings, of course, have enough talent at the skill positions to overcome blocking deficiencies. They managed to survive last week against a
Cowboys
pass-rush that swarmed their backfield throughout the first half. But last season it became just a little harder each week for the Vikings to camouflage their blocking weaknesses. That issue has carried over in 2010.
For more NFL news, rumors and analysis, follow

@cbssportsnfl

on Twitter and subscribe to our
RSS Feed
.