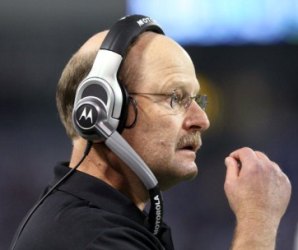 Posted by Josh Katzowitz
Remember how
Vikings
coach Brad Childress pretty much lambasted
Brett Favre
after the Vikings loss to Green Bay on Sunday?
He basically said that Favre's three interceptions cost his team badly. Which, of course, was completely obvious. But then again, a Favre who only had one leg under him nearly led his team to a stirring comeback. Later on, Childress looked a little like a jackass when he revealed Favre was playing with two ankle fractures.
Said Childress: "It still goes back to taking care of the football. You can't throw it to them. You've got to play within the confines of our system. Sometimes it's O.K. to punt the football, and you can't give seven points going the other way. Not in a game like this. Not with a high-powered team."
And this:
"Yeah, the (interception) to (Desmond) Bishop, I'd have to look at that because I'd like to know where we're going with the football, because I believe the play was designed to go to the other side and I think Percy's standing there in big air, so not sure why we're looking at the left-hand side."
The "we" obviously refers to "him," as in Brett Favre.
Which leads us to
Patriots
QB
Tom Brady
's weekly appearance on
WEEI radio
this morning.
He was asked about Childress' comments, and Brady said, "I think every head coach has different styles to motivate their players. Coach [Bill] Belichick, he doesn't ever do that to anybody. It doesn't matter if I threw seven interceptions, he would never do that. But there's no doubt that he's going to bring that up to me at some point, probably right away, in front of the team, as well. He's going to make the point that he needs to make in order to try to get his players to play better."
The fact Childress did it in such a public way, though, surely won't win him many friends in the Minnesota locker room.
For more NFL news, rumors and analysis, follow @cbssportsnfl on Twitter and subscribe to our RSS Feed .