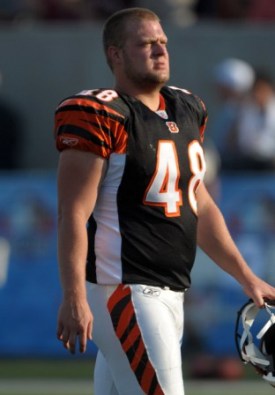 Posted by Josh Katzowitz
Mike Windt
is lucky No. 5. As in the fifth long-snapper to play this year for the
Chargers
. First, it was longtime veteran
David Binn
going on IR. Soon after,
James Dearth
and
Ryan Neill
followed Binn to the season-ending list. Lastly, San Diego released Ethan Albright and signed Windt, an undrafted free agent out of the University of Cincinnati. Fresh out of college, Windt staged a position battle with returning
Bengals
LS
Clark Harris
, who eventually beat out Windt.
Now, Windt has begun his career in San Diego, and he couldn't be more pleased.
We spoke to Windt this week about being a rookie free agent who's out of work, why he never lost confidence in his abilities to play in the league and about how close he came to chucking his football career to become a fire fighter.
Previous Five Questions (or More):

Oct. 22:
Bengals WR coach Mike Sheppard
Oct. 15:
Redskins
WR
Anthony Armstrong

Oct. 8:
Patriots
LB
Rob Ninkovich
Oct. 1:
Kent Babb of the
KC Star
Sept. 24:
Texans
WR
Kevin Walter
Sept. 17:
former Bengals,
Titans
DT John Thornton
Sept. 11:
Seahawks
RB
Leon Washington
1. CBSSports:
You were signed by the Chargers earlier this month. Considering they've gone through four other long snappers this year, it must be a quite a relief for you finally to get your chance.
Mike Windt:
Yeah, when you get into the season, every special teams coach in the country will tell you the same thing. If somebody goes down, they want somebody experienced to back that person up. That's what they did. That's what (San Diego special teams coach Steve) Crosby did. He had Dave (Binn) go down, and he brought in the next best experienced guy. They just kept going through the experience pool. But they gave me an opportunity to come out and work out. I wish they had done it five weeks earlier, but honestly, if it was Week 14 or Week 16, I'd still be really happy.

CBS:
What has the past six or seven weeks been like for you after the Bengals cut you?

Windt:
It's the most stressful time of your life. The day I got released from Cincinnati, it was not a god day. Getting released from your hometown team, it's different. It was stressful. I knew the situation I was in. My agent explained it to me. They said after I was cut that it was going to be a couple weeks, because I didn't have any experience. They told me not to do anything with other situations, get a job anywhere else. There are other football leagues out there, but I just didn't want to do that. I knew I wanted to play in the NFL for a long, long time. But the only way to do that is to play in the NFL, and you have to keep yourself available. For about six weeks, it was a stressful time, knowing everybody else out there is doing their job. You're watching every game, and seeing if anybody screws up. You don't hope the worst for anyone, but it's kind of hard not to hope somebody screws up.
About two weeks after I got cut, I had a workout. And then I had a workout every week until San Diego. I was actually at another workout when San Diego called to work me out. I had to fly out the next day to work out for San Diego. It kind of happened really fast, but I'm really happy. I came out here and I haven't left yet.
2. CBS:
After talking to you midway through Bengals training camp, I knew you were pretty confident in winning that job that Clark Harris eventually took. Did you think that was your job?
Windt:
I was so confident that it was my job. That's why it was such a hard thing to get released. For some reason, I knew I was going to have that job. In the competition part of it, it was a close match. You saw Clark in the preseason, and he's gotten so much better from last season through training camp. He's a great guy. I haven't got anything against Clark. He's hilarious. But we're going after the same job, and there's going to be some animosity. When it came down to that job in Cincinnati, if you would have asked me in the middle of training camp if I had that job, I would have said yes 100 percent. But they wanted experience.
CBS:
They want experience, but how do you get experience if you can't get into the league in the first place?
Windt:
Exactly. Dave has been here 17 years, but he was a rookie at some point, too.
3. CBS:
I've talked to people before who were rookies who had been cut from their original team. They constantly had to stay ready, because at any point during the season, a team could call you in for a workout and you'd have to be on a plane the next morning. How did you deal with that?

Windt:
It's a mental rollercoaster, I can say that. When I figured I got in and established myself with the Bengals, everybody said you have to mentally deal with it. At the time, I thought it was the mental part of doing my job – dealing with the pressure and all that. They didn't mean mental that way. They meant mental if something bad happened in my career, it's how you bounced back. How was I going to respond to being released from my hometown team? What I did was that I told myself on that first day after I got released that I was going to take my day off. I went and played golf and hung out with some friends. After that, you wait.
You work out every day. I was down at the University of Cincinnati every day and I was working out with my college weight coaches. Every day I'd come in, and they'd say, 'You hear anything?' It gets annoying to a point. 'If I hear something, you'll hear it too.' You just work out every day, and at the end of the day, you hope you got a call. Finally, I started getting calls. The good thing about that is that whether you get that job or not, every other team knows you worked out for that team. Your name gets out there.

4. CBS:
Had you lived in Cincinnati all your life?
Windt:
Please?

CBS:
Ha, that's how I know you
have
lived in Cincinnati all your life. Only the people in Cincinnati say "Please?" when what they mean is "What did you just say?" How is now not living in Cincinnati for the first time ever?
Windt:
It all happened so fast, you can't really explain it. The transition itself was really easy, because of
Mike Scifres
, our punter, and
Nate Kaeding
, our kicker. They helped me out with everything I needed. (Former Bengals backup QB) J.T. O'Sullivan was a huge part of it, too. When I got there, I had forgotten that he was out here playing now. He's lived here for years. He's been a huge help in helping me get around the city, helping me figure out where to live. Living out here, the weather is awesome. It's 75 and sunny all the time. It's a lot different from Cincinnati. Everybody from Cincinnati was calling me yesterday – (Bengals punter and former University of Cincinnati teammate)
Kevin Huber
and (Bengals TE)
Chase Coffman
, and they're asking me what I'm doing. 'Hey, I'm laying out in the sun by the pool.' They said, 'Yeah, we're having tornado warnings out here.'
5. CBS:
I'm not sure if we've ever talked about this before, but you thought about becoming a fire fighter when you were done with high school. Tell me about that. How far did you get in the process?
Windt:
When you go to a high school like I went to in Cincinnati (Elder), you can compare it to Texas high school football. Elder is everything to the West Side (of Cincinnati). If you have a personality like me and you want to get your life started, I didn't want anything to do with football. I wanted to get a career started and settle down. We won two state championships, and I was like, 'How much better can it get?' I went through EMT training. I was going to be an intern for the Cincinnati fire department, and I was in the middle of that whole process. But I just really needed to play football again. So, I got on with the University of Cincinnati and went from there.
For more NFL news, rumors and analysis, follow @cbssportsnfl on Twitter and subscribe to our RSS Feed .