Posted by Andy Benoit

We read through all the box scores so that you wouldn't have to. Here's what was pulled out.

Neither quarterback was very good in the Bengals-Dolphins game. Carson Palmer struggled with distance-based accuracy, completing just 17/38 passes. Chad Henne was 24/37 with no touchdowns and an awful interception to Morgan Trent.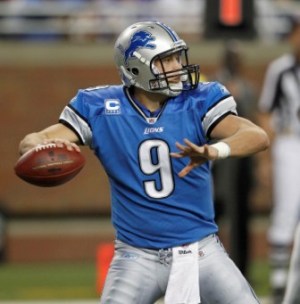 For the seventh time in seven games this season, Ronnie Brown and Ricky Williams were both held to 80 yards or less on the ground.
Davone Bess
, who started ahead of
Brian Hartline
for the first time this season, caught seven balls for Miami. The shifty slot receiver is on pace for 89 receptions and nearly 1,000 yards in 2010.
Maurice Jones-Drew had his best game of the season against the Cowboys, rushing for 135 yards on 27 carries.
In his first game since injuring his shoulder in Week 1, Matthew Stafford was 26/45 for 212 yards, four touchdowns and one interception. (DeAngelo Hall, who was outplayed by Calvin Johnson for most of the afternoon, snagged the interception on a brilliant first quarter play.)
The box score shows Washington gaining 80 yards on the ground, but 45 of those yards came on four
Donovan McNabb
runs. The
Redskins
never came close to sustaining a true rushing attack on Sunday.
Ndamukong Suh is running away with the Defensive Player of the Year award. The behemoth DT recorded two more sacks Sunday, bringing his total to 6.5 on the season. Suh also had five tackles and a game-sealing touchdown off a fumble return.
Kyle Vanden Bosch
and
Cliff Avril
also recorded a pair of sacks for the
Lions
.
Only 42,339 people paid to see the Lions defeat the Redskins.
The
Bills
became the fourth team in NFL history to lose back-to-back overtime games on the road. (Of course, that kind of heartbreak is nothing for a franchise that once lost back-to-back Super Bowls back-to-back times.) The last team to lose two straight road overtime games was the '09
Steelers
(remember them?).
For what it's worth, Kansas City's Thomas Jones became the first player in NFL history to rush for 500 yards for a fifth different team. Jones had 77 of the Chiefs' 274 yards rushing. (Jamaal Charles led the way with 177; he also led the Chiefs with 61 yards receiving.)
C.J. Spiller
seemed to spend as much time at wide receiver as running back. And not at slot receiver – split out WIDE, as in outside the numbers. Spiller finished with four catches for 28 yards and six carries for 17 yards. (It's apparent that the first-round rookie is still doing too much reading and not enough reacting.)
Paul Posluszny
led the Bills with 18 tackles. He has extra chances to tackle because none of Buffalo's defensive linemen can get off blocks.
Steven Jackson played with a broken finger against the Panthers. He came out in passing situations (one catch, four yards), but rushed for 59 yards on 23 carries (his performance looked better than the numbers suggest).
You can call off the search party for Carolina's running game – not because the run game was found but because it's safe to declare it dead.
Jonathan Stewart
managed just 30 yards on 14 carries against the
Rams
.
DeAngelo Williams
stayed home with a foot injury.
James Laurinaitis is putting together a Pro Bowl season. On Sunday the second-year linebacker had eight tackles, a sack, three tackles for a loss and an interception (which came on a horrendous decision and throw by Matt Moore).
The
Packers
told
Aaron Rodgers
all week not to worry about his completion percentage – just make sure he didn't turn the ball over. Rodgers listened. He was 15/34 passing with zero interceptions and fumbles.
Mark Sanchez was equally inaccurate, going 16/38 but with two picks (one of which was Charles Woodson plain ripping the ball away from Dustin Keller.)
LaDainian Tomlinson
is clearly the No. 1 back for the
Jets
. He got 16 carries against Green Bay;
Shonn Greene
got six. Neither player was particularly effective (LT got tripped up on several shoestring tackles).
After catching a pass in 133 straight games, Donald Drive was held without a catch for a second straight game. He was still hampered by a quad injury.
Troy Smith
was an efficient 12/19 for 196 yards and a touchdown in his
49ers
starting debut. Looks like Mike Singletary may have a new starting Smith to threaten with a benching.
Brandon Lloyd hauled in seven passes for 169 yards. Lloyd has had triple-digit receiving yards in five games this season.
Justin Smith
led the Niners with two sacks and two tackles for a loss.
The trio of Ryan Mathews, Mike Tolbert and Darren Sproles combined for 145 yards rushing for San Diego.
Some guy named
Seyi Ajirotutu
(save some vowels for the rest of us, pal) had three catches for 48 yards for the
Chargers
. Ajirotutu is an undrafted rookie from Fresno State.
The Seahawks were 1/16 on third down against the Raiders.
How's this for consistency:
Adrian Peterson
carried the ball 25 times for 92 yards Sunday, with his longest run going for just nine yards.
Danny Woodhead turned in five catches for 45 yards against the Vikings.
LeGarrette Blount
had 22 carries for 120 yards and two touchdowns in Tampa Bay's win at Arizona. (
Cadillac Williams
had just four carries for 10 yards.)
In his first game since Week 3, Steve Breaston caught eight passes for 147 yards.
No one for the Steelers had more than 43 yards receiving at New Orleans Sunday night.
Robert Meachem and Marques Colston both had six catches and at least 75 yards receiving for the Saints.
For more NFL news, rumors and analysis, follow @cbssportsnfl on Twitter and subscribe to our RSS Feed .