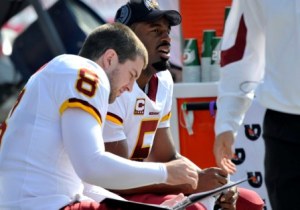 Posted by Josh Katzowitz
While most of us focused our attention this afternoon to Minnesota,
Redskins
coach Mike Shanahan slightly tweaked his story about why he pulled
Donovan McNabb
late in Sunday's game vs. the
Lions
and replaced him with
Rex Grossman
.
Originally, after the game, Shanahan said he inserted Grossman because he was better suited to run the two-minute offense (which led us to say, "Are you serious, dude? Your backup has a better command of the offense than the veteran you've got starting?").
Today, Shanahan said McNabb wasn't in good enough shape regarding "cardiovascular endurance" to run the two-minute offense. It's because, Shanahan explained, McNabb is still a little beaten up from previous injuries, and because he's been slowed by those ailments, he hasn't practiced enough in the two-minute offense.
"Donovan's been hampered with hamstring injuries, quad injuries, some contusions down there," Shanahan said, via the
Washington Post.
"Even earlier [last] week [on Tuesday], I sat down with Donovan and I talked to Donovan about possibly sitting out this game, after talking with our trainers, because of his hamstring injuries.
"He could not get the work that I would like him to get; he wasn't going to be able to go full speed in a lot of our drills [in practice], a lot of our plays. I called Donovan in the office, and I said, 'Hey, the thing I want to make sure, in the second half of the season, you're ready to go. Are you sure you want to be able to play in this game?"
McNabb did, so Shanahan let him. But afterward, Shanahan also made McNabb – who, it should be noted, led the team with 45 rushing yards – look pretty bad (to McNabb's credit, he was nothing but classy in his postgame interviews). Shanahan made himself look bad too, when Grossman entered the game and immediately fumbled a ball that was returned for the game-sealing Detroit touchdown.
But Shanahan also said that as soon as McNabb is healed – and Washington
is
going into its bye week – he'll be trusted to run that two-minute offense. But let me leave you with this: isn't a McNabb that's, say, 75 percent in shape to run the two-minute offense always a better option than a Grossman who's 100 percent? I'd say, yes.
For more NFL news, rumors and analysis, follow @cbssportsnfl on Twitter and subscribe to our RSS Feed .