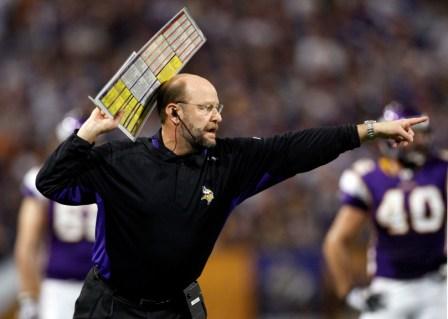 Posted by Josh Katzowitz
Brad Childress hasn't been popular in the
Vikings
locker room for quite some time now.
Some in the organization believe Minnesota went to the NFC championship game last year in spite of Childress, not because of him. He came off looking awfully weak during the preseason when he traveled to Mississippi multiple times in an attempt to sweet-talk
Brett Favre
into returning for one more season. He's made other people in the organization deal with his dirty work when talking to the media, and he's made two of his top players (Favre and
Randy Moss
) look bad in recent press conferences.
There's a faction of the locker room that wants to see
Tarvaris Jackson
as the starting quarterback. They can't like the fact Childress starts Favre. There's another faction of the locker room that is in Favre's corner. They can't like the fact that Childress basically called out his quarterback in his postgame news conference following the
Packers
loss last week (and oh yeah, Brad, Favre was playing on a fractured ankle. No matter what you think of Favre, the dude plays hurt. And you look small for bashing him.).
As a result, many of the Vikings don't like playing for him, and worse yet, they don't respect him as a coach. You can be a hardass if you're Bill Belichick, and yeah, maybe some players despise playing for guys like that. But there's no question Belichick has the respect of the locker room. Childress simply doesn't.
That leads us to Childress' performance today when he released Moss. A performance that could lead to Childress' eventual firing.
After talking to people close to the Vikings organization, here's what we know.
Stunningly, Childress, who can shape the 53-man roster as he sees fit, apparently didn't consult ownership about his plans to release Moss. It's stunning because of owner Zygi Wilf's love for Moss. The first time the Vikings got rid of Moss, it was because ownership grew tired of his act. Wilf, who took over the team a few months later, said he never would have seen Moss go if he was in charge.
Suffice to say, Wilf must have been extremely happy when Moss returned to Minnesota from New England. For Childress not to know that – or for him to willfully ignore that – is the height of arrogance or stupidity.
For now, it looks like Childress has won this power struggle (if there was a struggle in the first place), because for a few hours Monday evening, we weren't sure if the ownership would veto the Moss waiver and, instead, fire Childress.
"If they really are all-in (for the Super Bowl), who gives the team a better chance to make the playoffs right now – Moss or Brad Childress?"
Vikings Rapid Reporter Dana Wessel
told me earlier tonight before the Vikings released a statement unofficially confirming that Moss had been waived. "It's Randy Moss, no question."
Knowing that, you have to know that if the Vikings don't quickly turn around their season, Childress is a prime candidate to be let go.
The reasons:
1)
Everything I wrote above.
2)
When the trio of
Jared Allen
,
Ryan Longwell
and
Steve Hutchinson
flew to Mississippi basically to beg for Favre to return, Childress let offensive coordinator Darrell Bevell and special teams coach Brian Murphy answer to the media for him. Basically, not knowing what to do, the coaches lied. Childress apologized later for putting his assistants in that awkward position. Today, after not telling the media about his plans during the presser, a stunned LB
Ben Leber
had to answer a media horde's question after the Moss news broke. Childress did not talk to the media again, though he did release a one-paragraph statement.
In effect, others have to clean up his dirty work.
3)
There's a hot assistant coach waiting in the wings. His name is defensive coordinator Leslie Frazier. He very obviously wants a head coaching job, and one of these days, somebody is going to give him one. From what I understand, Wilf might not want to risk losing him like the team lost Mike Tomlin to the
Steelers
after the 2006 season. If you're choosing between Childress and Frazier, who do you go with? You already know what you've got with Childress.
4)
The Vikings are trying to get a new stadium built. Childress isn't well-liked in the city, doesn't really excite anybody. If he's lost his locker room, he's lost his city, and if he's lost his city and his locker room, does Wilf have any other choice but to fire him?
A better question: can the future of the organization count on a coach like Childress? I say no.
For more NFL news, rumors and analysis, follow @cbssportsnfl on Twitter and subscribe to our RSS Feed .