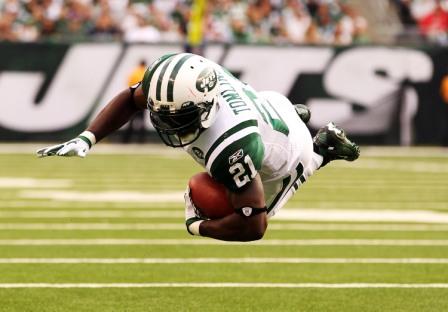 Posted by Josh Katzowitz
Some arrived via free agency. Some were left on the garbage pile and only had one or two teams show interest. Some didn't have much of a choice if they wanted to continue playing NFL football. And some were highly-touted rookies who commanded humongous signing bonuses and who have lived up to their end of the bargain.
Today, we spotlight the top-10 players who are performing brilliantly in their first year with a new team. We're talking about rookies, we're talking about free agents, we're talking about those whose careers were left for dead.
All of the following have impacted their new teams in many ways and all have made the front offices who signed them seem clairvoyant in the process (though, in the case of a couple players, the decision to add them wasn't exactly brain surgery). So, here's to those who have found a new lease on life (or a new burgeoning career) with their new team.
10.
Jason Babin
, DE,
Titans
: The career-high sack total for Babin, a seven-year veteran, was five coming into this season – set in 2006 while in Houston. This year, through eight games, he's got seven. So, what happened this season, especially after recording just 16 tackles and 2.5 sacks last year with the
Eagles
? According to Babin, it's just been a matter of getting more playing time. OK, if you say so.
9.
Colt McCoy
, QB,
Browns
: Aside from any rookie QB not named
Sam Bradford
, McCoy has done pretty darn well as a first-year signal-caller. He's only played the past two games for Cleveland, but he's hitting 63.5 percent of his passes for a touchdown, two picks and a QB rating of 76.5. OK, he's not great, but he's been light years ahead of
Jimmy Clausen
and
Max Hall
. Plus, he's coming off a win against the
Saints
.
8.
Terrell Owens
, WR,
Bengals
: You still have to take the good with the bad when it comes to Owens. He's the kind of player who, often times, doesn't put out special effort to knock down a bad pass so the opponent doesn't pick it (this happened at least twice last week), but he's also still the kind of player who can rack up a team-leading 45 catches for 629 yards and five touchdowns. Ultimately, it was probably the right move for Cincinnati to sign him. In three weeks, though, that might not be the case.
7.
Maurkice Pouncey
, C,
Steelers
: Pittsburgh's first-round pick beat out Justin Hartwig at the beginning of the season for the starting center role, and Pouncey has performed well thus far. He's really helped glue together a Steelers offensive line that had major questions raised about it coming into the season.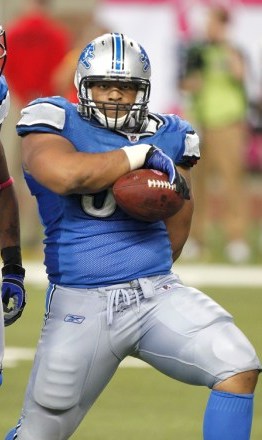 6.
Dez Bryant
, WR/PR,
Cowboys
: One of the bright spots in Dallas this year. We knew Bryant was going to be a good one, and he has not disappointed, catching 29 passes for 349 yards for three touchdowns (Roy Williams, by the way, is 22 for 327 and five, respectively). But he's been downright electric while fielding kicks, returning two punts for touchdowns and averaging 16.5 yards per punt, second in the NFL for those who have at least 10 returns.
5.
Thomas Jones
/Ryan Torain/Peyton Hillis, RBs,
Chiefs
/Redskins/Browns: Yes, I'm cheating a bit here, listing three players in one spot, but that doesn't take away from how well these guys have played – and how unexpected their production has been. The
Jets
figured they didn't need Jones any more, but he's rushed for 538 yards through seven games with the Chiefs. Torain has replaced
Clinton Portis
pretty well, and Hillis (460 yards, five touchdowns) has been the biggest surprise at all (he certainly has surprised Denver coach Josh McDaniels, who let go of Hillis after last season).
4.
Brandon Marshall
, WR,
Dolphins
: Marshall has typical diva receiver tendencies, but he's been one of the best players in the league so far this season. After Marshall was traded away from Denver (ahem, McDaniels), he's done nothing but produce in Miami, ranking fourth in the league with 47 catches for 588 yards. The one disappointing stat: he's only recorded one touchdown.
3.
Earl Thomas
(
Seahawks
)/T.J. Ward/Ndamukong Suh, S/S/DT, Seahawks/Browns/Lion: Sigh, again I'm cheating. But considering all these first-year players are vying for defensive rookie of the year honors, it makes sense to lump them all together. Thomas has proven that he's one of the most instinctual players in the league with four interceptions, tied for third-best in the NFL. Ward took some heat for the nasty hit he put on Cincinnati's
Jordan Shipley
, but his big-hit ability has helped lead him to 60 tackles (fourth-most among safeties). And Suh is living up to his lofty billing, blowing up interior offensive linemen and recording 6.5 sacks. He's going to be a monster for as long as he steps on the field.
2. Sam Bradford, QB,
Rams
: I'm not sure most of us could have expected Bradford, the No. 1 pick from last year's Draft, to play so well a mere eight games into this pro career. He's completed 58.6 percent of his passes for 1,674 yards, 11 touchdowns and eight interceptions. The numbers don't look fantastic, but you have to take into account his poise and his savvy and the fact he doesn't have a big-name receiver upon whom he can lean. Plus, he's got the Rams, one of the worst NFL teams coming into the season, at the 4-4 mark. He has been pretty outstanding. Not bad considering he missed most of last year at Oklahoma with the shoulder injury.
1.
LaDainian Tomlinson
, RB, Jets: Somehow, Tomlinson has found the fountain of youth. It wasn't in San Diego apparently. Perhaps it was in New Jersey the whole time. On the season, Tomlinson has gained 544 yards and five touchdowns and has taken
Shonn Greene
's job away from him. He has been perhaps the most surprising player in the league this year. He's definitely been the No. 1 new face.
For more NFL news, rumors and analysis, follow @cbssportsnfl on Twitter and subscribe to our RSS Feed .